Education
Join the growing Inventing Europe teaching community and make use of our vast resources online. These tools will help you use Inventing Europe to teach your students to engage with modern European history from a perspective that is pan-European, transnational and uses the lens of science and technology.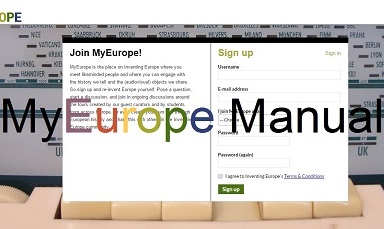 Inventing Europe offers an unforgettable learning experience that resonates with your students long after their graduation. The new historical narrative that Inventing Europe tells is inspired by the book series "Making Europe: Technology and Transformations, 1850–2000", published by Palgrave Macmillan in 2013–2015.
The education environment allows you – the teacher – to connect in-depth knowledge acquiring methods with highly innovative and creative digital learning that is tailor-made for your students who have grown up in the digital age. Explore learning objectives, opportunities for online and offline teaching, as well as example assignments and find out what we have to offer!
Learning Objectives
| | |
| --- | --- |
| What learning objectives do our materials support? Our teaching community has experienced that their own materials, combined with the materials offered here on the website, support the following learning objectives: | |
Engaging with a current debate in European historiography (such as transnational history or the historical role of technology in integration) that students can contrast with other historical approaches, like national histories, European integration literature etc.

Engaging with the web in an academic way. This includes: contextualizing online objects and relating them to academic research and publications, developing critical understanding of metadata formats, understanding copyright issues, and engaging in digital source criticism.

Writing effectively for the web. Students learn to distinguish 'web-style' from other writing styles, and explore its uses and limits.

Learning to construct, and engage critically with, digital heritage environments.  Students explore the relations and distinctions between digital and physical environments, engage with questions of access and authority, and develop skills of effective online presentation.

Enhancing creative and innovative skills. Students are encouraged to look differently at objects, generate new connections and develop new historical questions

.

Engineering students obtain an understanding of their future working identity and their contributory role to society.
Opportunities for Teaching
What teaching opportunities do we facilitate? Exploring the education environment you will find many assignments, accompanied by a variety of teacher and student materials. These materials include lesson plans, worksheet, tools, videos and background reading suggestions. Each of the assignments and their materials are easily adaptable to the scope and length of your course. They are free for use, and can serve as inspiration for new assignments. The lesson plans contain tips from fellow teachers, and approaches for teaching with 'offline' materials, as well as for teaching with our interactive 'online' tools. 
| | |
| --- | --- |
| | |
| Our offline teaching tools contain manuals, lesson plans, work sheets, videos, and presentations. Want to teach Inventing Europe's history? Then explore the Making Europe book series. | Our online teaching tools are designed to facilitate an innovative and creative learning experience for students in the digital age. Gotten curious? You find our tools on MyEurope.  |
Lecturing Materials and Assignments
Want to discover our lecturing materials and assignments? Every course, every study, and every group of students is different. We invite you to explore our assignment suggestions which all meet the above-mentioned learning objectives and which you can easily adapt to your needs. 
| | |
| --- | --- |
| IE as Lecture Aid: Explore how Inventing Europe can be turned  into lively lectures. | Short assignments: Learn about assignments that students can do within one week's time. |
| Intensive assignments: Discover  assignments  (1.5-3 ECTS) tailor-made for final (or major) course assessments. |  Full course outlines: GREAT OPPORTUNITY! Take a look at our two full courses, uniquely teaching the themes of Inventing Europe. |
All resources have been used in actual teaching across Europe. Are you curious to learn which courses included Inventing Europe? Then take a look at our full course list, showing courses per academic year and per semester.