IE as Lecture Aid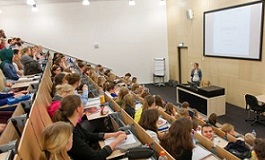 The objects, stories, tours and exhibitions on Inventing Europe have the power to bring your Lectures to life. We see two trends happening within our teaching community. Teachers use the website as a replacement for PowerPoint, or they use the site as input for their PowerPoint or Prezi presentations.
| | |
| --- | --- |
| | |
…as replacement for PowerPoint
If you have direct access to the internet in the classroom (and to loudspeakers if you want to play videos) the site itself can visually support your lecture. In this case, you no longer need to prepare a PowerPoint or other type of visual presentation, and your students can at all times go back to and explore 'your lecture' further at their leisure. This usage of the site is particularly helpful in the following two occasions:
Lecture option 1:
You can build your lecture around a tour with a topic that relates directly to the course or to the point that you want to make during the lecture. Simply scroll through the tour, its stories and objects (small and enlarged), at your convenience. Your lecture comes to live at the hand of compelling new facts and exquisite museum collections. With the help of your lecture and questions, these will trigger the curiosity and intellect of your students.

Lecture option 2:
Build your lecture around pre-selected objects or stories that you find on Inventing Europe. Simply navigate through the site to the objects and stories in question. The site offers opportunities to showcase the objects enlarged and in high-quality, as such revealing interesting details. The objects and stories can serve as basis for discussion. You can either showcase the stories and objects via Inventing Europe, or in its MyEurope environment.
When you showcase the objects via Inventing Europe, you can also take a look at the What's like this?  section below each of the stories in each of the tours. This section is enabled by Europeana and shows objects from a large number of cultural heritage institutions from across Europe on a topic related to the stories in the tours.
The MyEurope option offers interesting opportunities for online discussion and sharing of knowledge. See Tip


Teacher material
Student material
  …as input for a PowerPoint or Prezi
In case you intend to create a PowerPoint or Prezi presentation for your lecture with unique visual material and compelling and well-researched stories and anecdotes, Inventing Europe will serve as source for inspiration and visual material. Also, below each of the stories in each of the tours, the What's like this? section allows you to explore objects from cultural heritage institutions from all across the continent, and use the downloads as input for your PowerPoint or Prezi presentation.  This kind of usage of Inventing Europe is an excellent option to create a lecture when online presentation is not an option. 
Teacher material