Portrayal of measures to build a telegraph station in the field for the French military. Etching.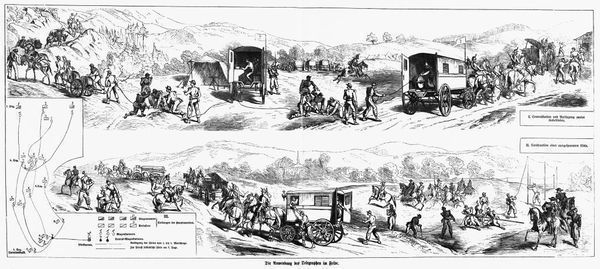 Object Description
Helikoptertrafikken kom til Norge med firmaet Helikopter Service, som ble grunnlagt i 1956. Tre helikoptre av typen 47J Ranger ble bestilt da firmaet følte seg trygge på oppdrag. Hovedaktiviteten i de første årene var utbyggingsoppdrag og kartmålinger i fjellområder. En annen oppgave var demonstrasjon og opplæring for Forsvaret. Helikoptrene ble tidlig brukt i både sivil og militær redningstjeneste, med stasjonering i Tromsø, Bodø, Bergen og Oslo.
---
On this page we provide metadata using the Dublin Core metadata format. The metadata is derived in most cases from metadata found in the source collection; in some cases we have added additional information where it was not available.