Spaarlampen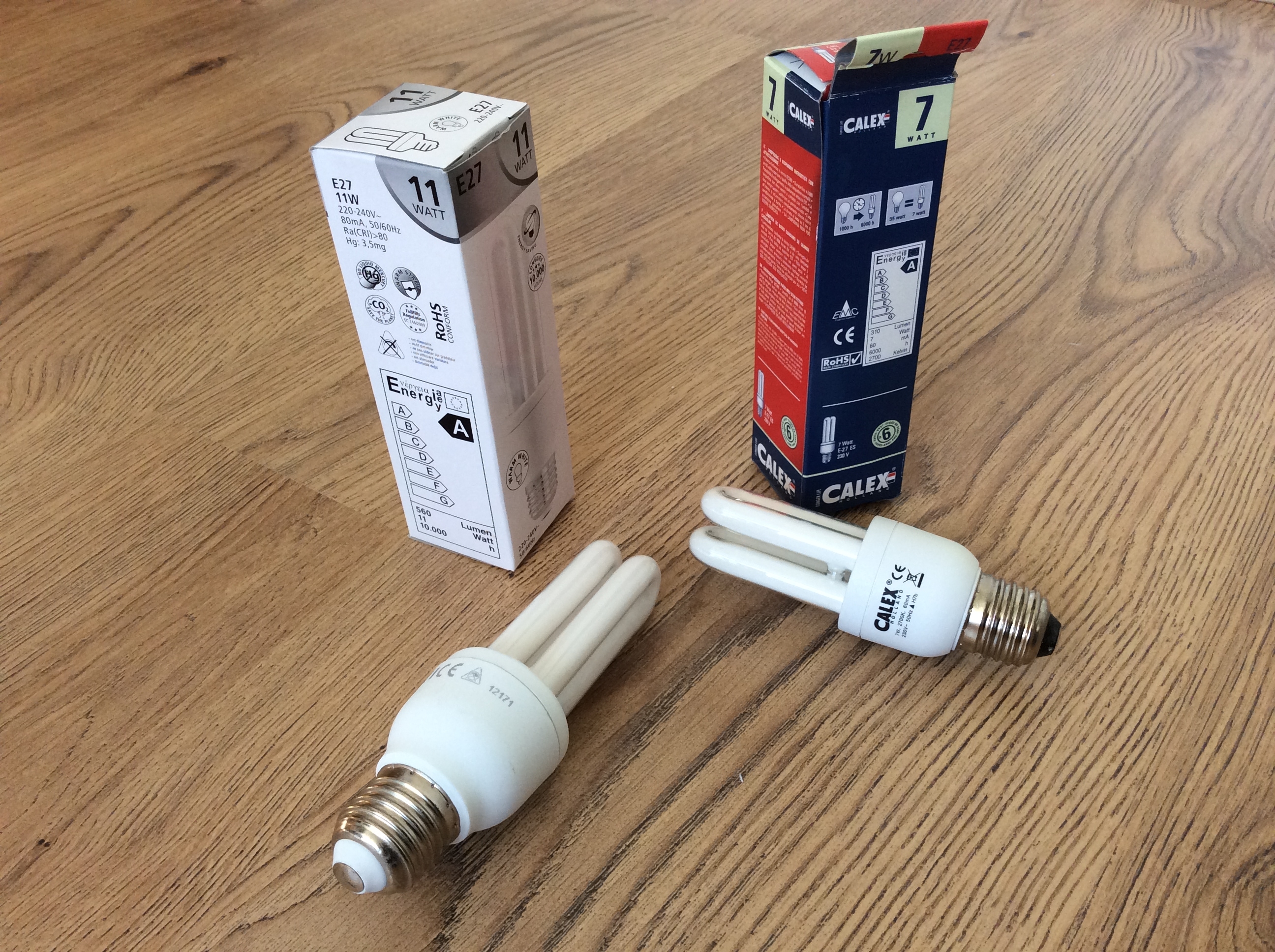 Object Description
Deze spaarlampen worden door ieder gemiddeld gezin gebruikt in Nederland. De linker lamp werd standaard geleverd bij aankoop van een plafondlamp. Deze werkwijze is bedoeld om het gemiddelde huishouden aan het gebruik van de spaarlamp te brengen. De lamp is 11 Watt, wat gelijk staat aan 48 Watt voor een ouderwetse gloeilamp, en is warm wit van kleur. Op de verpakking staat uitgebreid de voordelen van de spaarlamp beschreven. Zou heeft hij een lange levensduur van ruim 10.000 uur, staat er een energy-saving icoontje op en een flink aantal icoontjes met onder andere: 'no liquid mercury', 'warm start', en '-CO2, Save the Planet'.De lamp voldoet aan de'Fullfills Regulation EC 244/2009'. De lamp heeft energielabel A, de meest energiezuinige erkenning verkrijgbaar.
De rechter lamp werd gratis aangeboden bij het betrekken van een huurhuis door de woningbouwvereniging. De lamp maakte onderdeel uit van een energiebesparingspakket waar ook items voor waterbezuiniging en temperatuurregulatie van de woning in zaten. De lamp heeft een grote fitting, is 7 watt (gelijk aan 35 watt van een ouderwetse gloeilamp) en zou gemiddeld 6 jaar mee gaan. Andere karakteristieken van de lamp zijn: Levensduur tot 6000 uren, 6 keer zolang als een normale lamp'. De lamp mag niet met vocht in aanraking komen, dient altijd met een droge doek gereinigd te worden en kan niet gedimd worden. De lamp heeft energielabel A. 
De gebruiker heeft beide lampen nauwelijks gebruikt, omdat deze het vervelend vond dat spaarlampen niet gedimd kunnen worden. In vergelijking met de oudere en minder energie-zuinige lampen geeft dat een veel ongezelligere sfeer in de woning. Daarom zijn de lampen geschonken aan Museum Boerhaave
Description (English)

These low-energy light bulbs are used by each average household in the Netherlands. The left lamp was delivered by acquisition of a hanging lamp. This working method aims to let each household in the Netherlands use the low-energy light bulb. The lamp is 11 Watt, equalling 48 Watt of the older incandescent light bulb, and has a warm white colour. The packing shows the ample advantages of the low-energy saving lamp. Life expectancy is over 10.000 hours, it shows an energy saving icon, and a large number of icons with: 'no liquid mercury', 'warm start', and '-CO2, Save the Planet'. The lamp meets the 'Fullfills Regulation EC 244/2009'. The lamp has energy label A, the most energy saving one available in the Netherlands. 
The lamp on the right was offered for free by the housing association when the user of this lamp moved into a rental home. The lamp formed part of a 'energy saving' package, in which other items to save on electricity and water usage were also found. The lamp has a large fitting, is 7 Watt (equalling 35 Watt of the old incandescent light bulb) and should work on average 6 years. Other characteristics of the lamp are: life expectancy up to 6000 hours, 6 times longer than an ordinary lamp. Never clean the lamp with a wet piece of cloth. Not suitable for dimming. The lamp has energy saving label A.
The user has hardly used the two lamps, because he/she considered it a disadvantage that low-energy light bulbs cannot be dimmed.  In comparison to the old-fashioned bulbs these lamps create a less enjoyable atmosphere in the home. Consequently, these lamps are donated to Museum Boerhaave. 
---
On this page we provide metadata using the Dublin Core metadata format. The metadata is derived in most cases from metadata found in the source collection; in some cases we have added additional information where it was not available.