Electron microscope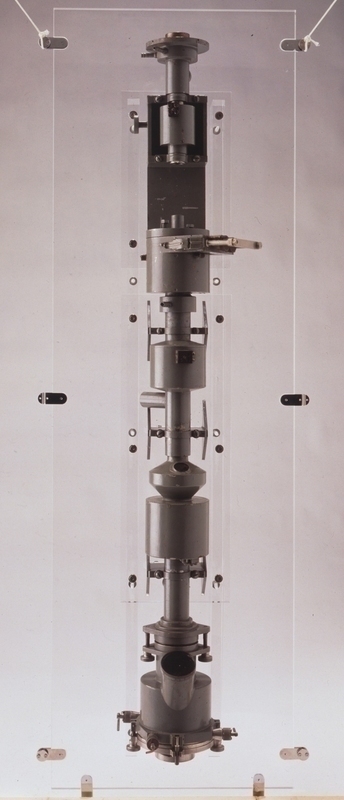 Object Description
Prototype van een elektronenmicroscoop (tussenlens die variabele vergrotingen mogelijk maakte). Prototype van J.B. Le Poole was het startpunt van de industriële productie van elektronenmicroscopen door Philips. Dit prototype bevat een slimme innovatie van Le Poole, de tussenlens. Het eerste type EM was eigenlijk te goed. Het startte met een vergroting van minsten 10.000 maal. Men had geen idee daardoor naar welke structuren men aan het kijken was. De tussenlens zorgde er voor dat de vergroting werd teruggebracht naar hoogstens 5000 maal. Bij deze vergrotingen was de microscopische wereld in die tijd wel te herkennen. Vanaf daar kon dmv de tussenlens zonder interval verder ingezoomd worden.
Description (English)

Prototype of an electron microscope (with an middle lens that enabled variable magnifications). This prototype by J.B. Le Poole was the starting point Philips's industrial production of electron microscopes. It contains a clever innovation by Le Poole, the middle lens. The first type he built actually worked too well: it started with a magnification of at least 10,000 times. At that magnification, no-one had any idea what they were looking at. The middle lens allowed them to reduce magnification to 5000 times. At that magnification the microscopic world could be recognized. From there, one could zoom in further without intervals.
---
On this page we provide metadata using the Dublin Core metadata format. The metadata is derived in most cases from metadata found in the source collection; in some cases we have added additional information where it was not available.