Not quite live: "National Nights" on air
More about this object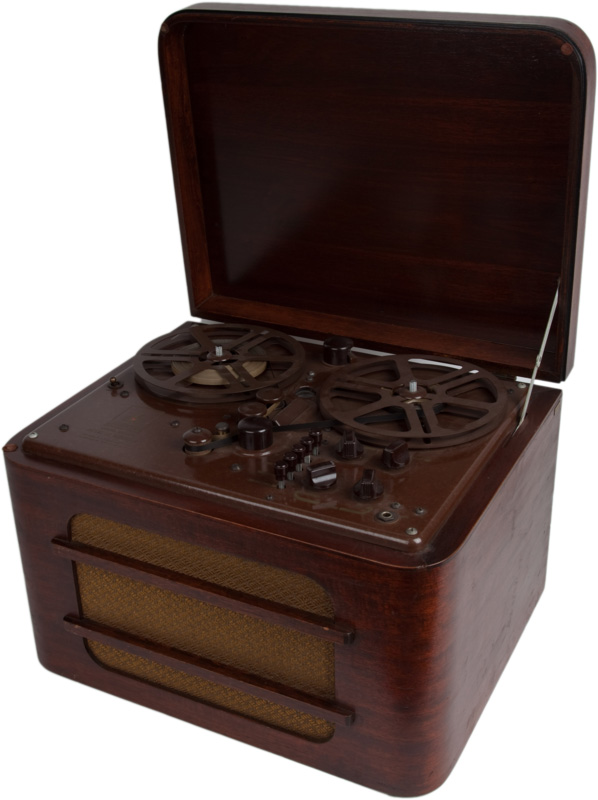 Bush tape recorder 1939
In the early years of wireless broadcasting, broadcasters looked to "traditional" nineteenth century forms of listening to music – playing music at home and visiting concert halls - as models for programs.
By creating a continuum between old and new forms of listening, they tried to establish a sense of trust in the new medium among audiences at home. The idea of airing live broadcasts was an essential aspect of this activity.
In 1926, broadcasters gathered under the auspices of the newly established International Broadcasting Union (IBU) to discuss the idea of live international programs. They created a series of programs called "National Nights." For one evening each week, people could listen to the art and life of one European country. However, there was no means of exchanging live signals or recordings yet; suitable cable links did not exist and nor did recording equipment of sufficiently high quality.
What did travel was paper, including scripts of speeches and music and each country had to produce locally and in its own language. This is not unlike the exchange of formats today such as Big Brother, although formats are not meant to give a feeling of common experience between the countries that exchange them.
The IBU quickly improved its technical network that would allow programs to be shared 'live' at the same time in multiple countries. In 1931, they started with "European Concerts" that, like the "Nights," featured a concert from a different European country.
But now, for the first time, people all over Europe could listen at to the same thing at the same time just by tuning into their 'home' station.

Previous Story
Next Story

How to cite this page
-
Suzanne Lommers, 'Not quite live: "National Nights" on air', Inventing Europe, http://www.inventingeurope.eu/media/not-quite-live-national-nights-on-air
Sources
-
Fickers, Andreas, and Suzanne Lommers. "Eventing Europe: Broadcasting and the Mediated Performances of Europe." In Materializing Europe: Transnational Infrastructures and the Project of Europe, edited by Andreas Fickers and Alexander Badenoch, 225–251. London: Palgrave, 2010.
Lommers, Suzanne. "Europe - On Air : Interwar Projects for Radio Broadcasting". Amsterdam: Amsterdam University Press, 2012.