Snowing under Christmas
More about this object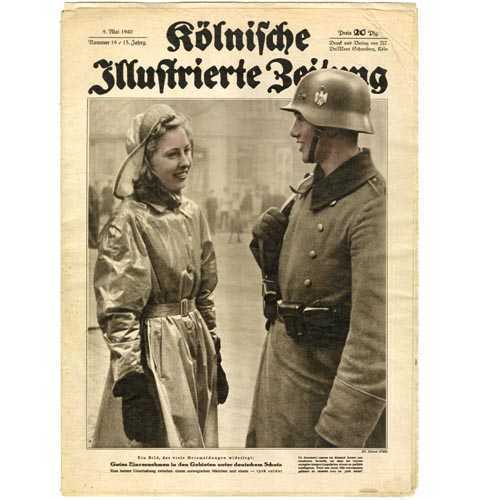 Front page of a German journal on the occupation of Norway in 1940
At the end of 1942, at a time that many felt was the turning point of the Second World War, the National Socialists staged a grand event on the airwaves.
The Weihnachtsringsendung (Christmas relay broadcast) featured messages from seemingly every part of the war front, including Stalingrad, calling one by one to the central station in Berlin. The final part of the 1.5-hour live broadcast was the stations singing "Silent Night" together. An excerpt can be found at the <a href="http://www.rundfunkmuseum.fuerth.de/audios/weihnachtsringsendung.mp3">Rundfunkmuseum in Fürth, Germany</a>
It turned out much later that the show was a fabrication. The Ringsendung not only gave a performance of a nation as a united front, but also sought to portray them as being in control of vast swathes of space. German broadcasters recorded the event in the course of about six days, and they even included sounds of technical interference and connection difficulties to make it sound more authentic (notes for these can be seen in the script).
The event was a constructed reality that sought to show the Nazis' power to dominate the airwaves and create an impression of a control they did not actually have, or were rapidly losing.

Previous Story
Next Story

How to cite this page
-
Suzanne Lommers, 'Snowing under Christmas', Inventing Europe, http://www.inventingeurope.eu/media/snowing-under-christmas
Sources
-
Diller, Ansgar. "Die Weihnachtsringsendung 1942. Der Produktionsfahrplan Der RRG." Rundfunk und Geschichte 29, no. 1/2 (2003): 47–51.