'Eye-witnessing' the war in the Crimea: telegraph vs. Camera
More about this object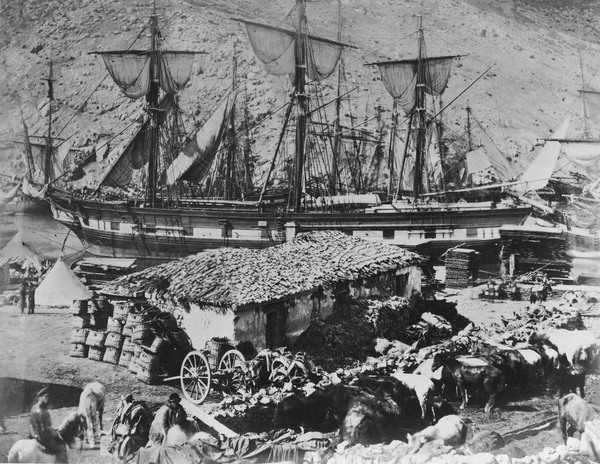 Harbour of Balaclava, the Cattle Pier, c. 1855
The Crimean War (1853–1856) is known as one of the first modern wars because it made use of new technologies like the telegraph.
Not only were allies able to share strategies using the telegraph, journalists could also share their war reports. The telegraph helped give the eye-witness reports of a war journalist like Times correspondent William Russell (1820–1907) a feeling of immediacy. The speed of the telegraph's arrival suggested an instant link with the place of action and helped establish trust in the message.
The Crimean war started as an Ottoman–Russian war over Russian territorial claims, and Britain and France soon joined the Ottoman Empire in trying to contain Russia. Britain and France established telegraph connections with the Ottoman Empire as part of their war strategy (these eventually became important in predicting weather as well). Using telegraph links, William Russell was able to quickly and easily disseminate his dispatches from the front as well. These made a great impression in Britain.
The trustworthiness of Russell's reports influenced political decisions. Queen Victoria fired the prime minister when she heard about the suffering of the British army during the harsh winter of 1854. When the minister of war read about the circumstances of the British soldiers and their lack of proper treatment, he sent nurse Florence Nightingale to Turkey to establish a hospital to treat the sick and wounded.
To help counteract negative eyewitness accounts, the photographer Roger Fenton (1819–1969) was also dispatched to provide visual evidence, like the photo here, to show that the war was going well.

Previous Story
Next Story

How to cite this page
-
Suzanne Lommers, ''Eye-witnessing' the war in the Crimea: telegraph vs. Camera', Inventing Europe, http://www.inventingeurope.eu/story/eye-witnessing-the-war-in-the-crimea-telegraph-vs-camera
Sources
-
Bektas, Yakup. "The Sultan's Messenger: Cultural Constructions of Ottoman Telegraphy, 1847-1880." Technology and Culture 41, no. 4 (October 1, 2000): 669–696.
Royle, Trevor. Crimea: The Great Crimean War, 1854-1856. New York: St. Martin's Press, 2000.
Russell, William Howard, Angela Michelli Fleming, and John Maxwell Hamilton. The Crimean War: As Seen by Those Who Reported It. Baton Rouge: Louisiana State University Press, 2009.
Russell, William Howard. "The Evolution of War Reporting from the Crimea to Iraq." Army 54, no. 2 (2004): 32–39.