Parisians in awe
More about this object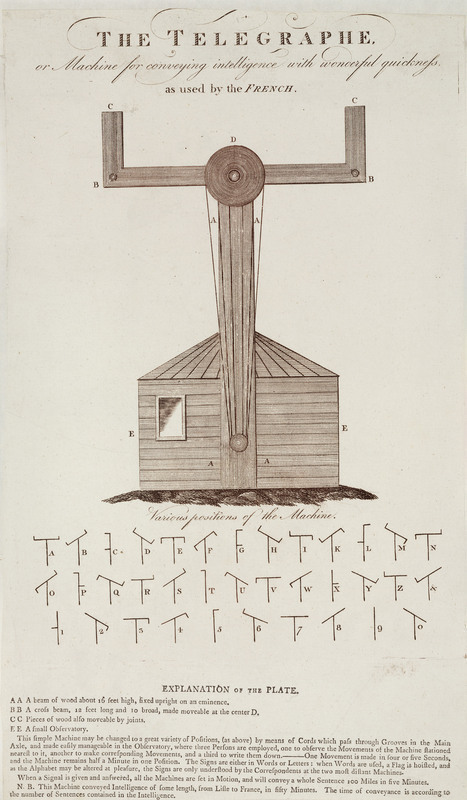 'The Telegraphe (sic)', c. 1795.
In August 1794, Napoleonic France was at war with all of the European monarchies. An overheated atmosphere reigned on the streets of Paris. People were eager to hear about any new information. Word then spread that Napoleon had met the Austrians at Condé sur l'Escaut less than an hour previously, two hundred kilometers from Paris. By means of the optical telegraph, which had recently been invented by Claude Chappe, Napoleon had managed to diffuse his war strategies and news with unprecedented speed.
Napoleon had received word of the invention of the optical telegraph in July 1793. He enlisted Chappe into government service and had him build a network that would reach from Venice to Amsterdam. Each line of the network consisted of a series of towers, topped by a signaling system of three hinged wooden posts. The position of each post corresponded with a code that referred to a specific meaning.
Napoleon wanted to "know in the space of a few instants how events unfold, to transmit orders or announce the rescue of a city." Within a few years of its discovery, the optical telegraph had become a state-owned strategic information infrastructure. The event that had left the Parisians in awe also marked the modest beginnings of telecommunication infrastructures in Europe.

Previous Story
How to cite this page
-
Suzanne Lommers, 'Parisians in awe', Inventing Europe, http://www.inventingeurope.eu/media/parisians-in-awe
Sources
-
Fickers, Andreas, and Pascal Griset. Communicating Europe: Technologies, Information, Events. Basingstoke: Palgrave, forthcoming.