Gloeilampen Philips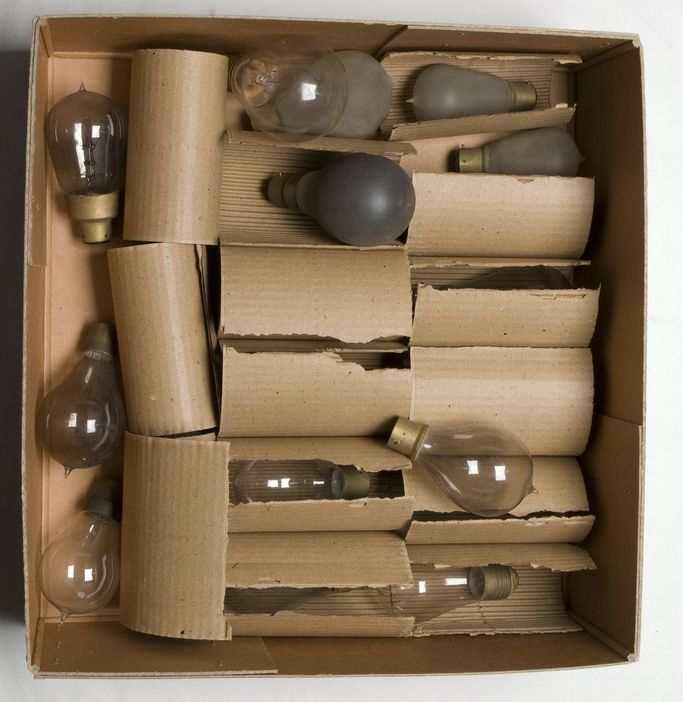 Object Description
Dit zijn de oudste Philips gloeilampen in het bezit van Science Center NEMO. De opdruk van de merknaam ontbreekt. In de doos zitten lampen met een lampenvoet die deels uit vitriet (van het bedrijf Vitrite in Middelburg, Zeeland) bestaat en lampen met lampenvoeten die deels uit keramiek zijn vervaardigd. Beiden zijn aan de hand van literatuur geïdentificeerd als vroege Philips lampen, waarvan de lampen met Vitrite-lampenvoeten echt in de beginjaren van Philips zijn gebruikt.
Description (English)

These are the oldest Philips light bulbs in the collection of the NEMO Science Center. The box contains bulbs made of "vitriet" (produced by the company Vitrite in Middelburg, Zealand, the Netherlands), and bulbs with a socket partially made of ceramics. Both types are identified as early Philips light bulbs, showing that the bulb sockets made of "vitriet" were used in Philips' early years.
---
On this page we provide metadata using the Dublin Core metadata format. The metadata is derived in most cases from metadata found in the source collection; in some cases we have added additional information where it was not available.