Che for Czechoslovakian tractor
More about this object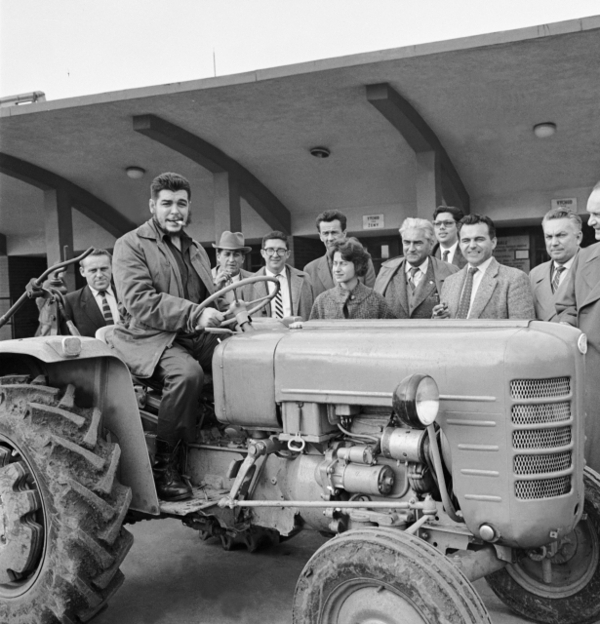 Ernesto Che Guevara visiting the tractor factory in Brno, October 27, 1960.
In terms of production volume, the Soviet Union dominated Comecon's tractor output. However, the most innovative and competitive tractor production was in Czechoslovakia, which had a long and rich tradition before the communist era.
Membership in Comecon gave the Czechs new opportunities of expansion into new markets. Right after the 1959 revolution in Cuba, the new government joined the communist bloc, and in October of the following year, the legendary Che Guevara paid a visit to Eastern Europe. It is significant that on the way to Moscow, he visited Czechoslovakia first. He visited the Zetor factory in Brno, and he signed a contract to build a factory in Cuba, for which he was granted a 20 million dollar loan.
The capacity of the plant was planned for two thousand tractors a year. Guevara did not conceal the fact that that the tractor factory's primary function was to secure the island's own means of agricultural production.
Che Guevara, the man "wearing a smile of melancholy sweetness that many women found devastating", had driven a tractor himself, and frequently told of his experience of driving different machines during his passionate, revolutionary speeches.

Previous Story
Next Story

How to cite this page
-
Slawomir Lotysz, 'Che for Czechoslovakian tractor', Inventing Europe, http://www.inventingeurope.eu/story/che-for-czechoslovakian-tractor
Sources
-
Guevara, Ernesto. Venceremos: The Speeches and Writings of Ernesto Che Guevara. London: Weidenfeld & Nicolson, 1968.
Castañeda, Jorge G. Compañero: The Life and Death of Che Guevara. New York: Knopf, 1997.