'Computing is for everyone - computers for everyone!'
More about this object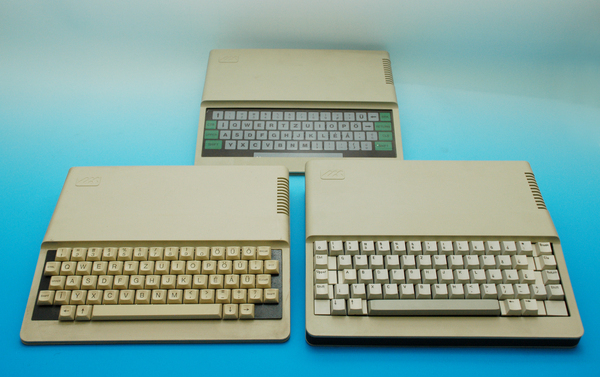 Primo – the forerunner (Primo computer family)
In the 1980s, tens of thousands of computers (by modest estimate) were owned by private persons in Hungary. There were far fewer in workplaces.
The developed, capitalist countries themselves discouraged exporting professional computers to Hungary, for fear that these high-technology developments would be used for military purposes. The Coordinating Committee for Multilateral Export Controls (COCOM) blocked the export of computer equipment – which was also disadvantageous even for profit-oriented Western companies and manufacturers.
Purchasing cheaper home computers abroad and bringing them back into Hungary was made problematic by the inflexibility of the Hungarian customs regulations. Therefore smuggling computers (and other durable goods) became nationwide practice at the time. People did not even consider this act to be immoral: it was more like part of the struggle against the inflexibility of the political system.
Travellers on a short holiday or a delegation to Vienna for example (or any other Western-European city) would smuggle some computers home in their Trabant cars. Between 1984 and 1987 different groups of users emerged around the Commodore VIC-20, Commodore 64, Sinclair ZX-81, Sinclair ZX Spectrum and other types of home computers.
Software supply was also a problem to be solved. For the average user the solution was mass-copying the legal software that appeared in Hungary every now and then. The next step in copyright infringement was swapping these programs – this activity was allowed and even encouraged – in cultural centres or canteens. Propagation of computer culture was helped by the television course TV-BASIC broadcast by the Hungarian Television, along with the press and professional exhibitions. A 1987 computer trade exhibition even took as its slogan: "Computing is for everyone - computers for everyone".
Hungarian industry also tried to keep pace, and soon their own models of personal computer began to appear.

Previous Story
Next Story

How to cite this page
-
Gábor Képes, ''Computing is for everyone - computers for everyone!'', Inventing Europe, http://www.inventingeurope.eu/story/computing-is-for-everyone-computers-for-everyone