Constructive reparations
More about this object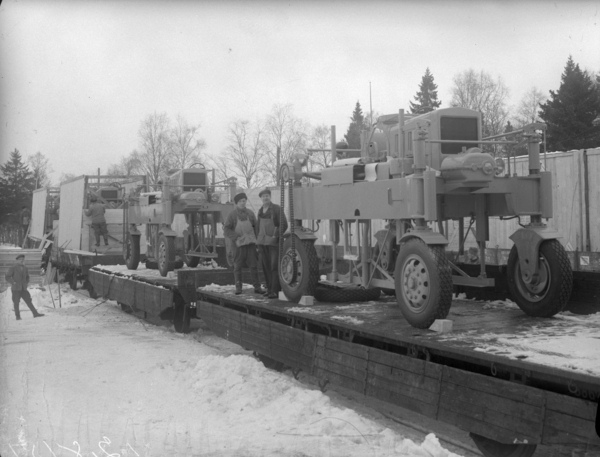 Train loaded with equipment as war reparations.
After the Soviet-Finnish war ended in September 1944, and Finland's army was demobilized, local military industries were left without orders. Or so they thought. The Valmet Corporation of Tampere, one of Finland's largest producers of military aircraft, soon became overloaded with orders from the Soviet Union. At first these orders were fulfilled under the arrangements of a peace treaty and delivered to the Soviet Union as war reparations.
In companies like Valmet, the strong research and development section quickly switched production to other kinds of equipment such as machinery for making paper and diesel engines for locomotives. One of the most unusual Soviet orders was for a vehicle to transport large felled trees or logs.
Shortly after the war, the Russians turned up at Valmet with a photograph of such a vehicle. Using the photograph as a basis for the design, Finnish engineers created the blueprints and built the vehicle which was later produced on a large scale. There was a huge demand for such vehicles in the Soviet Union. This design was later modified into a straddle carrier, which is used for moving containers in ports.

Previous Story
How to cite this page
-
Slawomir Lotysz, 'Constructive reparations', Inventing Europe, http://www.inventingeurope.eu/story/constructive-reparations
Sources
-
"Large Vehicle Deck Unit Load Carriers." Shipbuilding and Marine Engineering International 95 (1972): 308.