From traders to producers: the textile industry comes to Norway
More about this object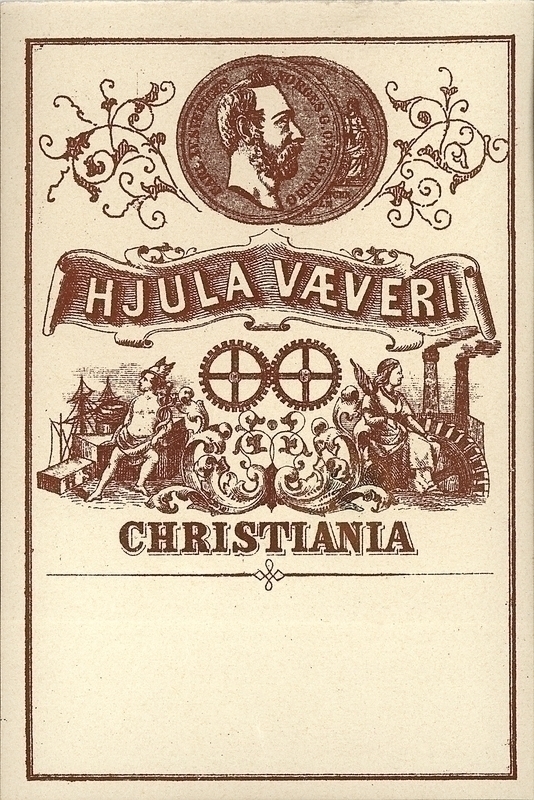 Label from Hjula Væveri
After its own 'industrial revolution' in the 18th Century, Great Britain had kept its position as an exporter of goods by barring both industrial workers and industrial machines from leaving the country.
That ban was lifted in 1843, and a short time later, the Norwegian textile industry began. The first mills with modern machinery for spinning cotton yarn were founded in 1845/46. About 1850 the first cotton weaving mills were established. Halvor Schou built up a small mill at the Aker River in Christiania (as Oslo was called before 1925). In 1856 he had bought a waterfall further up the river and built the weaving mill Hjula Væveri that existed for the next one hundred years.
Before 1850, instead of a national cloth industry, Norway had international trade. Fabrics were imported from Great Britain and Germany. The merchants who sold them wanted to increase their income. Instead of re-selling finished fabrics, some traders founded mills and earned more money by making their own cloth. During these years domestic industries making fabrics for the home-markets were established all over Europe.
Machinery and mechanical equipment were imported as well as the raw materials, dyes and the know-how of how and what to produce.
Next Story

How to cite this page
-
Tone Rasch, 'From traders to producers: the textile industry comes to Norway', Inventing Europe, http://www.inventingeurope.eu/story/from-traders-to-producers-the-textile-industry-comes-to-norway
Sources
-
Bruland, Kristine. British Technology and European Industrialization: the Norwegian Textile Industry in the Mid Nineteenth Century. Cambridge; New York: Cambridge University Press, 1989.
Grieg, Sigurd. Norsk tekstil, Vol. 1 & 2. Oslo: Johan Grundt Tanum, 1948-50.
Hoel, Kari. Fabrikk og bolig ved Akerselva: et industrimiljø på 1800-tallet. Oslo: Norsk teknisk Museum, 1982.