Light town forever
More about this object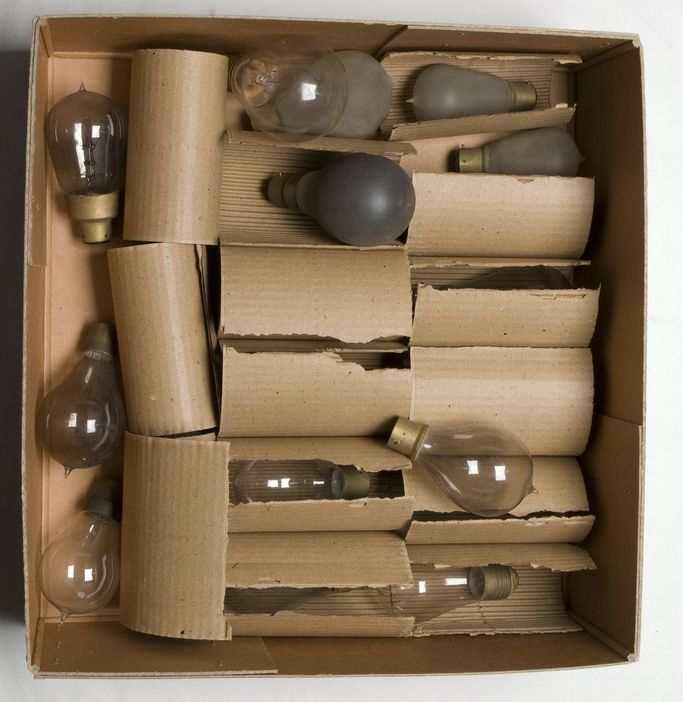 Gloeilampen Philips
Initially, Philips made Eindhoven the global center of light bulb production. By 1980, Eindhoven had again moved to the margins of what had become an European light bulb production infrastructure, transitioning into an administrative center for Philips.
The electric lamp became the main light source of the twentieth century. The successful worldwide introduction of new types of bulbs contributed strongly to Philips' growth into a multinational organization. Philips produced several metal wire lamps, followed by gas discharge lamps and, more recently, so-called low-energy light bulbs. The symbol of this innovation is the Eindhoven Lichttoren, with its test rooms for lamps.
The Dutch industry distribution policy in the 1950s forced some of the bulb factories out of Eindhoven. Philips later moved its production to lower-wage countries like Italy and Spain and to post-Soviet Eastern Europe. The production network was Europeanized, but would not move beyond European borders as this would have generated excessive transport costs.
Eindhoven's few remaining test factories and labs disappeared after 2000. Only the Lichttoren remained as a kind of souvenir of the town's past.
However, Eindhoven wished to retain the name "Light Town". The city introduced the annual Glow festival, featuring special light effects, experiments with sound and film, and electronic music. Glow is part of a circuit of international light festivals in Lyon, Geneva and Lisbon, which attract tens of thousands of visitors each year.

Previous Story
Next Story

How to cite this page
-
Hans Schippers, 'Light town forever', Inventing Europe, http://www.inventingeurope.eu/story/light-town-forever
Sources
-
Hesselmans, Ton. "Elektriciteit." In Techniek in Nederland in de 19de eeuw, edited by Harry Lintsen, 135-161. Zutphen: 1993.
Metze, Marcel. "Eindhoven: the Lichttoren." In W. van den Doel, Plaatsen van herinnering, 58-71. Amsterdam: 2005.
Schippers, Hans. "Eindhoven, lichtstad voor altijd." Groniek, Hollands Lichtnummer, (2012): 167-179.