NatLab: A transnational center for research
More about this object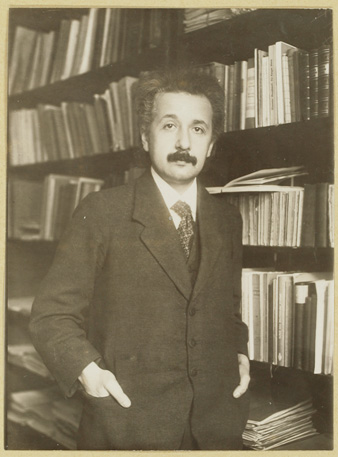 Portretfoto Einstein, Albert
Shortly after its establishment in 1914, the Philips Natuurkundig Laboratorium (NatLab) became part of an international science network.
In the spring of 1923, Albert Einstein, who had received the Nobel Prize in 1921, came to Eindhoven to give a lecture at the NatLab. With his visit, he expressed his respect for the lab's quality and its international group of researchers.
Europe's lack of technological universities meant that places like the NatLab attracted renowned visiting lecturers such as Einstein. One of the NatLab's researchers was the German physicist Gustav Ludwig Hertz, who was awarded the Nobel Prize in 1925.
Under the leadership of the young Leiden-educated physicist Gilles Holst, the NatLab was modeled after General Electric's lab. It quickly acquired a reputation for its fundamental and applied research, in radio bulbs, x-rays, and gas discharge lamps.
Research into radio and broadcasting appliances proved to be fruitful. In the 1930s, the pentode, a radio bulb, was used in radios around the world. The Phohi radio transmitter that connected the Netherlands with Indonesia was world-leading technology at the time.
After 1945, the NatLab's internationally acknowledged masterpieces include the Plumbicon television tube, contributions to integrated circuits, and the compact disc, this latter of which was co-developed with Sony. Philips' retreat from Eindhoven in the 1980s gradually reduced the NatLab's influence.

Previous Story
Next Story

How to cite this page
-
Hans Schippers, 'NatLab: A transnational center for research', Inventing Europe, http://www.inventingeurope.eu/story/natlab-a-transnational-center-for-research
Sources
-
"Hoog bezoek: Philips kon Einstein niet volgen." Eindhovens Dagblad, (18 mei, 2012). Accessed 28 March 2013. http://www.ed.nl/extra/ed-100/hoog-bezoek-philips-kon-einstein-niet-volgen-1.1631487
De Vries, Marc. 80 years of research at the Philips Natuurkundig Laboratorium (1914-1994). Amsterdam: 2005.
Boersma, Kees and Marc de Vries. "De veranderende rol van het NatLab in het Philipsconcern." NEHA Jaarboek, (2003): 287-313.
"Philips geëerd voor uitvinding cd." Trouw, (6 maart 2009).