New machines, new products: sample books
More about this object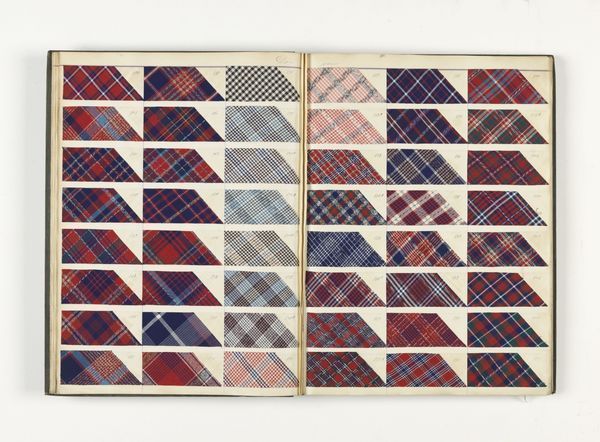 Sample book, quality 'Dover' from Hjula Væveri
One of the main goals of the industrial revolution was simply to lower the costs of production by replacing man-power with machine power. Soon the products also began to change.
New types of fabrics were made by the textile industry due to fashion and technological changes. The fabrics produced by mechanical mills were often clothes for everyday use. The workers at the mill wore dresses and skirts made at the factory as well as they ate bread from the local grain mill and drank beer from the brewery next door.
Simple fabrics were produced and gingham was most popular. These fabrics were patterned with cheques and stripes often in bright colours like red, blue and yellow together with white. From 1896 to 1921 a series of sample books labelled "Bomuldsvareprøver" (cotton product samples) from Hjula Væveri are preserved. The ginghams in different qualities have different names, often foreign geographical names like "Dover", "Manchester", "Salford", "Milano" and "Malta". Some qualities have descriptive names like "flannel" and "bolster".
Many sample books from the European textile industry from the late 19th and the early 20th Century are preserved. The books from Hjula were mainly meant to promote the products made at the mill to the wholesale merchants. The textiles were further sold to private female consumers sewing clothes for themselves and their own families.

Previous Story
Next Story

How to cite this page
-
Tone Rasch, 'New machines, new products: sample books', Inventing Europe, http://www.inventingeurope.eu/story/new-machines-new-products-sample-books
Sources
-
Rasch, Tone. "Blåtøy, kjoletøy og flanell: fabrikkvevde stoffer fra Hjula Veveri på slutten av 1800-tallet." In Volund: årbok for Norsk Teknisk Museum, 73-106. Oslo, 2004.
Stillie, T.A. "The Evolution of Pattern Design in the Scottish Woollen Textile Industry in the Nineteenth Century." In Textile History 1, no. 3 (1970): 309-331.
Sykas, Philip Anthony. The Secret Life of Textiles: Six Pattern Book Archives in North West England. Bolton: Bolton Museums, Art Gallery and Aquarium, 2005.