More than a place to cook
More about this object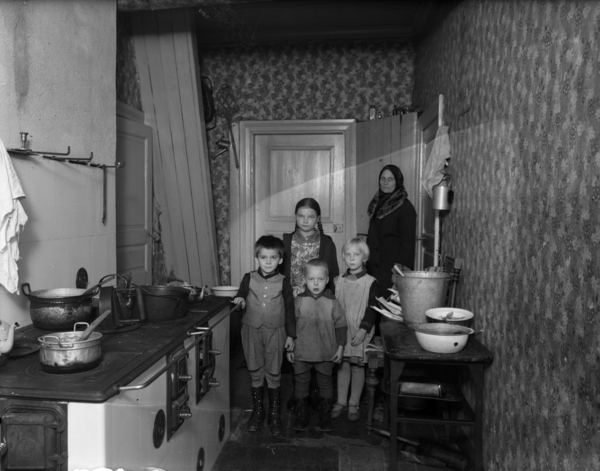 Working-class family in their kitchen, Tampere
Kitchens in Europe, particularly in working-class homes, were not set up to accommodate large additional appliances. In many working-class homes, kitchens were not merely places to store and prepare food; they were often also places where meals were eaten, washing (of both clothes and people) was done, and families gathered.
Not all kitchens were set aside for individual families either, but were actually communal kitchens for all of the flats in one part of a building. As social reformers attempted to improve conditions for working classes, the kitchen became a key focus of these efforts.
The famous "Frankfurt kitchen," part of a model housing development designed by the renowned architect Ernst May, was praised as "America at our doorstep" for the way it incorporated electric devices such as stoves. However, this supposedly American kitchen was still much smaller than its average European counterpart and its electrical appliances, which did not include refrigerators, worked very slowly.

Previous Story
Next Story

How to cite this page
-
Alexander Badenoch, 'More than a place to cook', Inventing Europe, http://www.inventingeurope.eu/daily-lives/more-than-a-place-to-cook
Sources
-
Hård, Mikael and Oldenziel, Ruth. Crafting Europe from Below: Consumers, Tinkerers, Countercultures. Basingstoke: Palgrave, forthcoming