A 'port' in the Hungarian hinterland
More about this object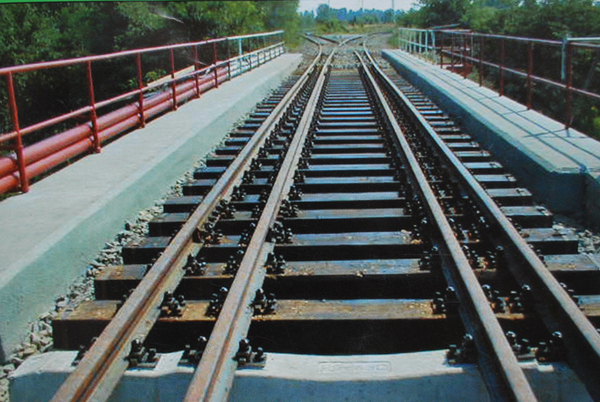 Dual gauge (1435mm-1520 mm) railway track on the Hungary-Ukraine border
In 1945, both the borders and the politics of Hungary changed substantially, and transportation links to the East gained greater importance.
Soon after the war, a double-gauge railway link connected the Hungarian 1435 mm standard network with Soviet 1520 mm between the towns of Záhony and Chop.
A huge inland 'port', covering some 84 square kilometers, was built to serve as a transfer point of goods between trains of both gauges. Similar 'ports' were constructed all along the western border of the Soviet Union. In the heyday of COMECON trade in late 1970s, the capacity of the Záhony transloading station reached 16 million tons annually. Today, its annual capacity today is less than one-third of what it was in the 1970s.
The passenger traffic on this route still operates using the method of changing the two wheel assemblies on each car. The process usually takes about one hour for an entire train. The car is lifted in a special facility, and the standard gauge wheel rail wheel assemblies are uncoupled and removed from underneath making room for 1520 mm gauged Russian assembly.
The operation is done on a section of track with four parallel rail lines. Two are 1435 mm while the other two are 1520 mm.

Previous Story
Next Story

How to cite this page
-
Slawomir Lotysz, 'A 'port' in the Hungarian hinterland', Inventing Europe, http://www.inventingeurope.eu/governance/a-port-in-the-hungarian-hinterland
Sources
-
Stowe, Leland. Conquest by Terror: The Story of Satellite Europe. New York: Random House, 1952.