Creating cartels
More about this object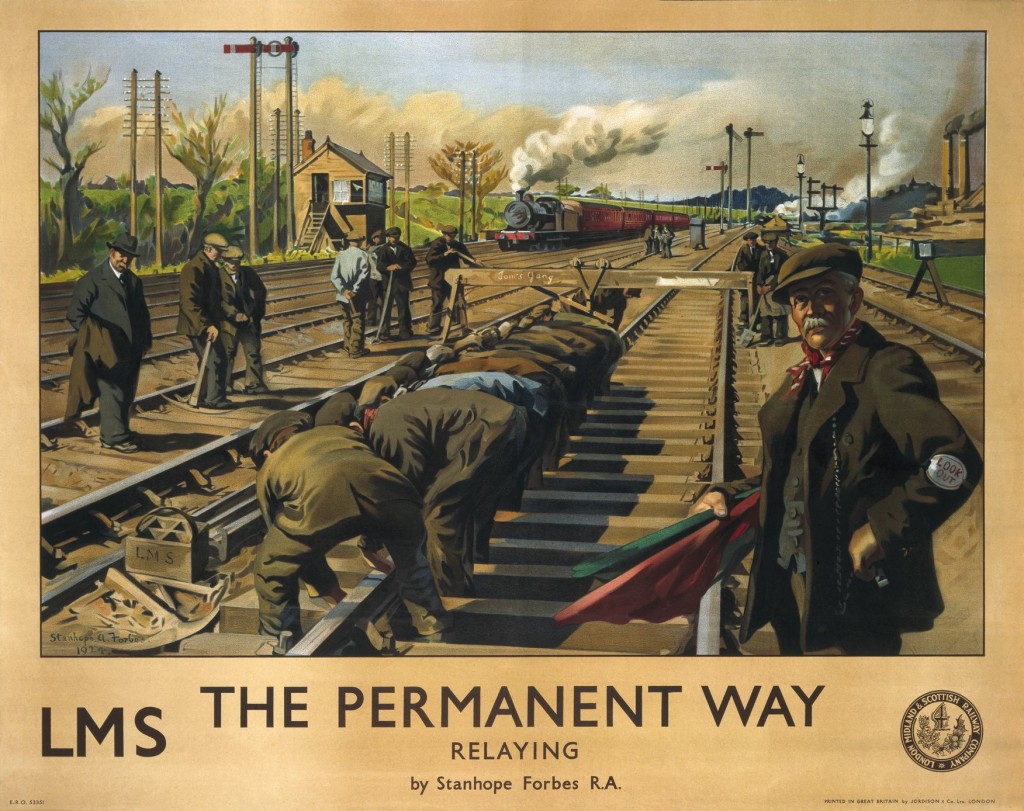 'The Permanent Way: Relaying', LMS poster, 1924
From 1884, European steel companies began to regard the formation of cross-border cartels as a suitable means of stabilizing their businesses.
Investments in the steel industry were expensive and risky. When the expansion of railways slowed down in Europe and Latin America as the largest export markets for European companies, steel producers began to engage in fierce competition.
To minimize the resulting economic insecurities, German, French, Belgian, and British companies formed the first broader transnational cartel for rails for tracks in 1884. This cartel reserved national markets for domestic producers and their national cartels, and also set quotas and prices for exported rails.
The companies reconstituted the cartel as the European Rail Makers' Association in 1904. It was renewed in 1926 with a pan-European scope and, with American participation, became the International Rail Makers' Association in 1928.
Interwar Europe saw a proliferation of cartels, which eventually controlled 90 per cent of world steel production and trade. Some people started to see cartels as a new mechanism for creating economic stability in times of crisis, and even as an instrument for peace – issues such as these were discussed at the League of Nations' 1927 World Economic Conference. Cartels could utilize an informal international machinery: their small secretariats staffed with company employees. They did not require elaborate treaties between states and avoided intrusion by diplomats.

Previous Story
Next Story

How to cite this page
-
Wolfram Kaiser, 'Creating cartels', Inventing Europe, http://www.inventingeurope.eu/governance/creating-cartels
Sources
-
Kaiser, Wolfram and Johan Schot. Writing the Rules for Europe. Experts, Cartels, and International Organizations, chap. 6. Basingstoke: Palgrave Macmillan, 2014.
Nocken, Ulrich. "International Cartels and Foreign Policy. The Formation of the International Steel Cartel 1924-1926." In International Cartels and Foreign Policy. Studies on the Interwar Period, edited by Clemens A. Wurm, 33-82. Stuttgart: Franz Steiner, 1989.
Stocking, George W. and Myron W. Watkins. Cartels in Action. Case Studies in International Business Diplomacy. New York: Twentieth Century Fund, 1946.