The shades of socialist specialization
More about this object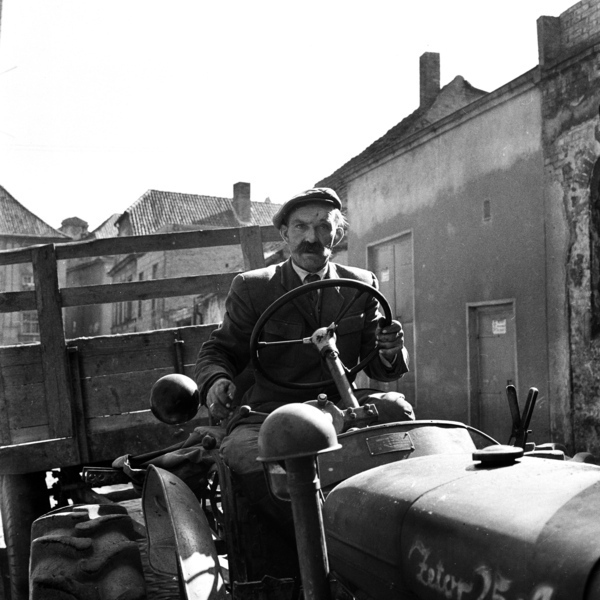 A farmer from northern Poland, another lucky owner of a new Zetor 25 tractor.
The Council for Mutual Economic Assistance (CMEA, also known as Comecon) was founded in 1949 to help streamline and co-ordinate a number of activities within the countries in the Eastern bloc. This included tractors. In the early 1960s, Poland produced a mere ten thousand tractors a year – only a quarter of its demand. In 1961, Poland signed an agreement with Czechoslovakia, the regional leader in machines and heavy industry.
A Polish–Czechoslovak research institute on tractors would develop a new model, while the production of already famous Czech Zetor 25 tractor would be launched in Poland's biggest tractor plant, Ursus. The plan went forward despite the initial objections of engineers from both factories. The Czechs feared that by giving away the blueprints of their successful construction, they would create a competitor on the foreign market, where they earned valuable hard currency.
Meanwhile, the Poles were also not happy, as the treaty forced them to stop production of their own design. The other factories that had co-operated with them lost their contracts, which had adverse effects for the entire branch of Poland's heavy industry.
Polish farmers, on the other hand, were very happy with the arrangement. Czechoslovak tractors were known and appreciated in Poland, as they were in seventy other countries worldwide. The cooperation eventually broke down. Although the Zetor was produced in Poland, the joint research institute was dissolved without producing any plans for a new model of tractor. The Polish plant returned to producing Ursus tractors, and the most recognizable result of the Polish–Czech affair in this field is the tractor's unified coupling feature for agricultural tools and machines.

Previous Story
Next Story

How to cite this page
-
Slawomir Lotysz, 'The shades of socialist specialization', Inventing Europe, http://www.inventingeurope.eu/governance/the-shades-of-socialist-specialization
Sources
-
Rolow, Aleksander. Polska - Czechosłowacja: gospodarka współpraca. Warszawa: PWE, 1971.