Personified environments
More about this object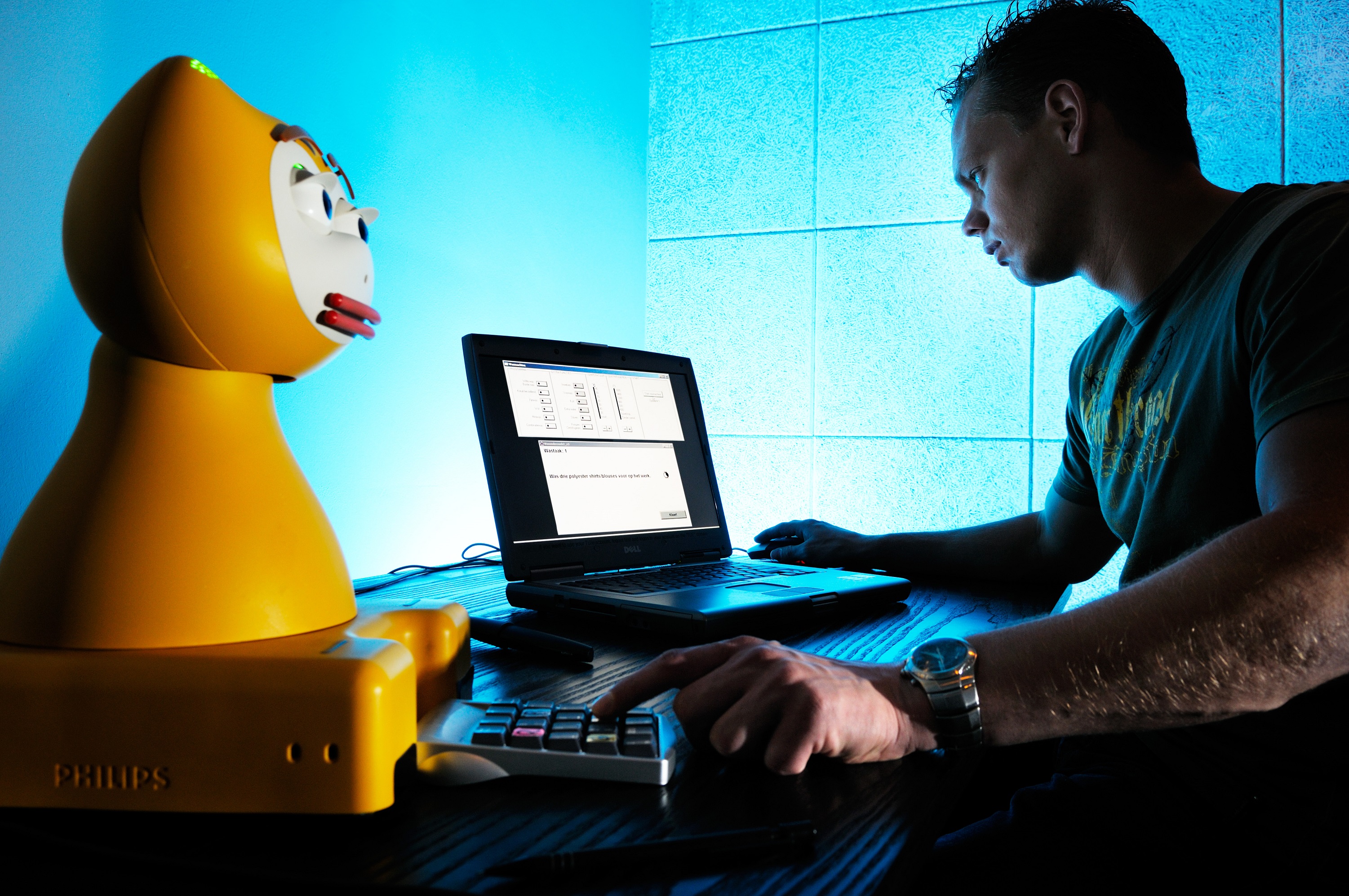 iCat onderzoek aan de Technische Universiteit Eindhoven
What needs do people have and how can their interaction with technology be improved?
Slogans like 'Let's make things better' and 'Innovation & You' reflect Philips' growing customer-orientation since 1990. For and with professional clients and customers, Philips Research in Eindhoven examines how interactive systems can be applied to individual preferences.
Miniaturization of electronics enables profound integration of light, sound, and vision on location and in objects. Clothing, furniture, walls, floors, vehicles, and the like all integrate with electronics, adapting technology to personal wishes.
Philips does all of this as part of developing the concept of 'ambient intelligence'. The Philips Experience Labs, which have been open since 2001 at the High Tech Campus of Eindhoven University of Technology, test new ideas, including in home situations. One of these ideas has been the robot iCat (2004–2012).
Like universities in France, Germany, Portugal, Sweden, and the Netherlands, Philips has explored how artificial expressions have influenced the interaction between apparatus and humans. Over the years, the cat developed from playmate for elderly people and truck drivers to further training teachers and game buddies. Researchers shared their results via the iCat Community.
Learning from experience, Philips Research has opened its doors for collaboration with research institutions and end users for its 'ambient intelligence' research. It has learned that only through collaboration, including with international partners, can steps be taken towards a useful application of electronics.  

Previous Story
How to cite this page
-
Frank Veraart, 'Personified environments', Inventing Europe, http://www.inventingeurope.eu/philips/personified-environments
Sources
-
Emile Aarts & Stefano Marzano, The New Everyday, views on Ambient Intelligence,  010 Publishers, Rotterdam, 2003
Emile Aarts & Elmo Diederiks, Ambient Lifestyle, from concept to Expertise, BIS Publications, Amsterdam 2006