Mountains, myths and maps
More about this object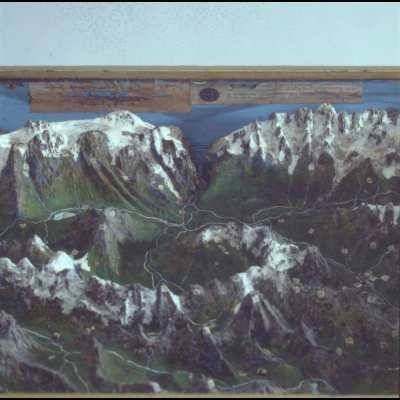 Relief of the St. Gotthard Massif
It is not always clear whether mountains divide or unite people. The St. Gotthard Massif has done both.
Physically, it is at the continental divide between waters that flow into the North Sea and those that flow to the Mediterrannean. The Gotthard Pass, with its 'Devil's Bridge' over the River Reuss has long been a point of crossing, as well as a militarily important location, controlling access between north and south. Politically, it borders four Swiss Cantons, Uri, Schwyz, Graubünden and Ticino, and not far from the Rütli meadow, where the first legenday oath of confederacy was taken between the cantons of Uri, Schwyz and Unterwalden around 1291.
The Massif stayed put, but its place on the map, and the politics around it changed quickly. When Napoleon invaded in 1798, he declared Switzerland to be a country (rather than a confederation of states) for the first time. This 'Helvetic Republic' only lasted until 1803, but struggles between the individual cantons and the idea of a united Swiss state continued over the next 50 years.
Plans to survey and assemble an accurate map for the whole country, started at this point, did not reach fruition until much later. This was in part because, for a long time, maps were considered a military state secret, and in part because there was not yet a central authority to carry them out.
In a sense, amateur model-makers like Geneva-born Léonard Gaudin, who made relief models of all of Switzerland, were mapping a country that did not (yet) exist.
Next Story

How to cite this page
-
Alexander Badenoch, 'Mountains, myths and maps', Inventing Europe, http://www.inventingeurope.eu/story/mountains-myths-and-maps
Sources
-
Gugerli, David, and Daniel Speich. Topografien der Nation: Politik, kartografische Ordnung und Landschaft im 19. Jahrhundert. Chronos, 2002.