Human error
More about this object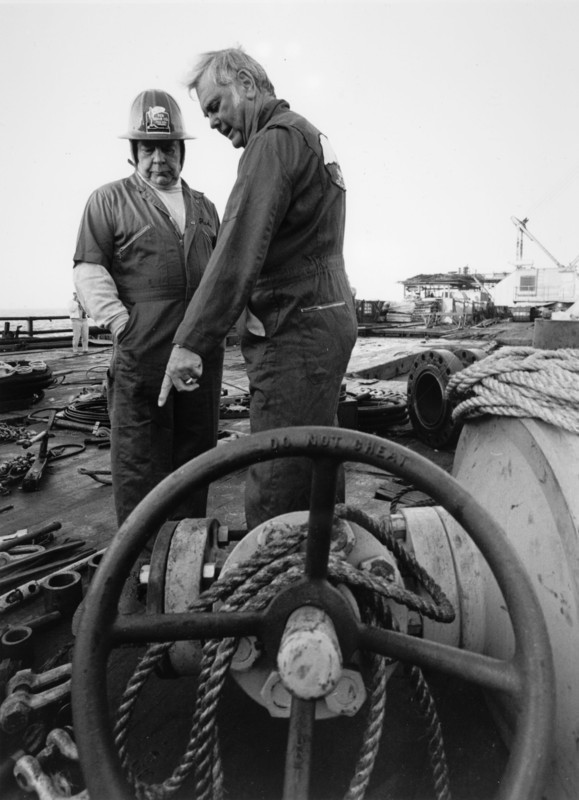 Paul "Red" Adair on Ekofisk 2/4 B during the blowout, 1977
On April 22, 1977, routine maintenance at Ekofisk Bravo platform led to a major disaster.
Safety valves had been removed and not replaced during maintenance, and the well spiraled out of control. The platform was evacuated immediately, but soon combined oil and gas spewing out of the hole. For an entire week, the platform sprayed oil and gas into the middle of the North Sea.
Just as the expertise for oil production in the North Sea came from a range of sources, especially the USA, so too did the expertise for combatting spills. When local attempts to stop the blowout at Ekofisk Bravo failed, the Phillips group contracted the Red Adair Company in Houston – famous oil firefighters – to cap the well. While the well had not caught fire, the danger that it might do so was great and had to be kept under a constant stream of water from the nearby "Seaway Falcon" ship.
Several attempts to kill the well failed over several days. Finally, in spite of the fact that a blow-out preventer had been installed upside down, the well was finally capped and the grand media event in the middle of the North Sea had ended.
The American Paul "Red" Adair, and especially his colleague "Boots" Hansen, became heroes in the media.

Previous Story
Next Story

How to cite this page
-
Alexander Badenoch, 'Human error', Inventing Europe, http://www.inventingeurope.eu/infrastructures/human-error
Sources
-
Kvendseth, Stig S. Giant Discovery: A History of Ekofisk Through the First 20 Years. Phillips Petroleum Company Norway, 1988.