Mobile on the rocks
More about this object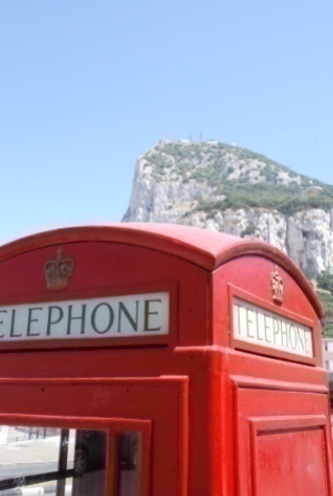 Public phone in Gibraltar.
Just as the issue of communication of Ceuta and Melilla was important to the Spanish government, the British sought to establish direct communications with Gibraltar with equal fervor. What's more, "The Rock" was the starting point for the cables running to Malta and on to India. The first submarine cable connected Porthcurno in Cornwall, and Gibraltar in 1870. This direct line was particularly important during the periods of tension, particularly between Great Britain and Spain. Land connections could be easily broken, as Gibraltar's residents learned in 1969, when the Franco regime cut off telephone lines between Spain and the British colony at the beginning of so-called "Garlic War." The border was closed hermetically and the ferry service to Gibraltar was shut down. The land line connectivity was eventually restored only in 1986. This was preceded by some goodwill gestures, such as allowing telephone communications the day before Christmas, 1975. The normalization was clearly apparent, as the actual communication blockade continues – Spain does not recognize Gibraltar's international direct dialing code. The result is that Gibraltar cell phones work everywhere except in Spain. When Gibtel customers travel to Spain and find themselves out of their own base station, they can only receive Moroccan GSM transmitters.

Previous Story
Next Story

How to cite this page
-
Slawomir Lotysz, 'Mobile on the rocks', Inventing Europe, http://www.inventingeurope.eu/globalisation/mobile-on-the-rocks
Sources
-
Morris, D.S., and Haigh, R.H. Britain, Spain, and Gibraltar, 1945-1990: the eternal triangle. London, New York: Routledge, 2002.
"Spain Cuts Local Telephone Lines to Gibraltar." The Times, October 2, 1969: 1.