Partially deported
More about this object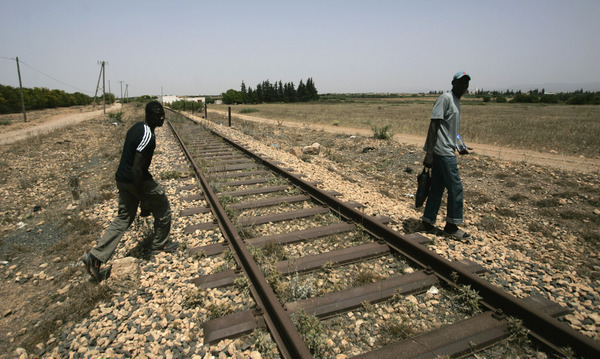 Would-be immigrants walk at the border between Morocco and Algeria near Oujda.
When Spain joined the European Union in 1986, its enclaves in North Africa became European Union territory, which enmeshed them in a new form of network.
In 2008, Mohamed Kamara, a would-be immigrant from Mali waited with others to be deported back to his country. He was caught with others while trying to get into Europe. Many Africans choose the route through Morocco and Spanish enclaves. While deportation ends his dream of living in Europe, at least the transfer to the refugee center and the airport in Oujda means that he will arrive safely back home.
Many illegal immigrants who managed to get to Spain were not so lucky. Some of those captured were transferred to Melilla and then expelled to Morocco. Later, they were supposed to be transported by Moroccan authorities to their refugee centers, the Algerian border, or directly to their countries of origin. Often, however, the refugees were abandoned.
In September 2005, during one such incident, the workers of the few non-governmental organizations that were helping refugees started receiving desperate phone calls from the immigrants who were supposed to be on their way to the Algerian border. The refugees talked about having been on a bus for days without food or water. Others called from the middle of the desert, where they had been abandoned by the Moroccan authorities. The situations were repeated several times.
The refugees' mobile phones not only saved their lives, but helped to expose the truth about the lack of humanitarian practices.

Previous Story
How to cite this page
-
Slawomir Lotysz, 'Partially deported', Inventing Europe, http://www.inventingeurope.eu/globalisation/partially-deported
Sources
-
Galdon Clavell, Gemma. "Ceuta and Melilla: Europe's Wall of Shame." Transnational Institute. A worldwide fellowship of scholar activists, last modified November 1, 2005. http://www.tni.org/node/60487/16145