Sovereign airport
More about this object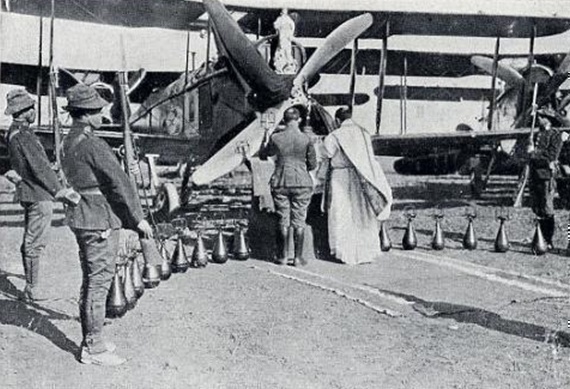 A mass celebrated in a front of a warplane at Spanish military airport in Nador (early 1920s).
An important factor for tightening the links between the metropolis and Spanish possessions in Africa (or rather strengthening the control over them) was the birth and development of air transportation.
In 1913, one year after the Spanish took over northern Morocco, they built three aerodromes for balloons and aircraft. In 1921, a military airport was built between the villages of Taouima and Nador, ten miles south of Melilla. A base for hydroplanes was established at the coast of nearby Mar Chica. Both were connected with Melilla by a road and railway. Since the early 1930s, the Nador airport was also used for passenger traffic; an Italian airline company, Ala Littoria, operated the lines to Cadiz and La Palma.
In 1955, the airport expansion program was started by Spaniards, but Morocco's independence the following year changed the fate of that transportation hub. Spain had to withdraw its air forces stationed at Nador air base, but the passenger traffic was maintained.
However, given that the airport operated on Moroccan territory, passengers headed for Melilla traveled in sealed buses. The solution to this troublesome arrangement was to build an airport on the territory controlled by Spain. It was located on the only piece of land suitable for this purpose on the southern edge of the enclave. The new airport was opened in mid-1969.
Today, it plays an important role in the development of Melilla's economy and maintains the enclave's links with Spain and the rest of the world, helping to supply the most basic needs of Melilla's population.

Previous Story
Next Story

How to cite this page
-
Slawomir Lotysz, 'Sovereign airport', Inventing Europe, http://www.inventingeurope.eu/globalisation/sovereign-airport
Sources
-
"Navegación aérea." Heraldo Depórtivo, June 15, 1930: 224.