Women encounter the empire
More about this object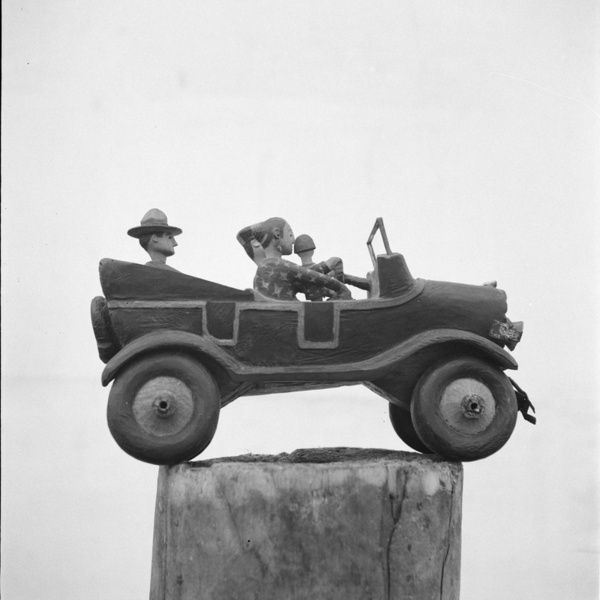 Automobile
Tours of the colonies were often tales of the superiority of technology (and Europeans) over the colonial lands.
Some wrote about their (potential) encounters as dangerous. Marga von Etzdorf told a newspaper that: 'The Arabs in this region insist on their freedom and independence. What in the atlas is labelled as department, state or colony in Africa does not interest them, and everything that dares enter their territory falls under their law.'
However, more reflective encounters with both natives and other Europeans also emerged. The Portuguese colonial photographer Elmano Cunha e Costa captured a glimpse of how 'natives' viewed Europeans in jeeps in an exhibition of indigenous art in Loanda, Anglola in 1938.  
On April Fool's Day, 1930, two South African women of British origin, Margaret Belcher and Ellen Budgell, embarked on a journey that seemed something of a parody. 
Acquiring a second-hand Morris that they dubbed "Bohunkus," they drove from Cape Town to the Morris factory in Cowley, England. Belcher's 1932 account, entitled Cape to Cowley via Cairo in a Light Car, is largely a comic tale of breakdowns, solved in part with the assistance of natives they encountered on the way.
While Belcher proudly saw the two women as braver – or crazier – than the native "boys" who did not want to spend the night in the bush, the account also raised questions about how superior imperial skills and technology actually were in the colonies.

Previous Story
Next Tour

How to cite this page
-
Alexander Badenoch, 'Women encounter the empire', Inventing Europe, http://www.inventingeurope.eu/globalisation/women-encounter-the-empire
Sources
-
Clarsen, Georgine. "Machines as the Measure of Women: Colonial Irony in a Cape to Cairo Automobile Journey, 1930." The Journal of Transport History 29, no. 1 (2008): 44–63.
(quote from:) Kölner Stadtanzeiger, 26 January 1931, article in album of newspaper clippings in the Marga von Etzdorf archive in the Deutsches Museum (NL 075)