Bipolar Europe
More about this object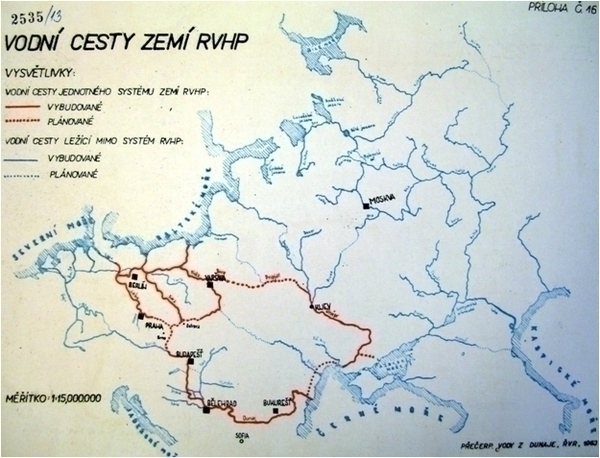 Czechoslovakian map showing COMECON proposals for waterways
The formation of the Soviet Bloc after 1945 and the major reconstruction of waterways seemed - at least at first - to go hand-in-hand.
The Soviet Union portrayed its massive modernization projects as the 'taming of nature', an idea that local political representatives and experts accepted enthusiastically. Similar rhetoric was also a key part in selling the Marshall Plan in the West.
Waterways seemed a natural part of these efforts: the "Iron Curtain" had largely followed the natural division of the continent into the drainage areas of the Black Sea and the Baltic Sea (East) and the North Sea and the Mediterranean in the West. The international alliance between the Soviet Bloc states, the Council for Mutual Economic Assistance (Comecon), became the main body for developing the new waterway scheme that would bind the rivers, transport, and electricity systems of the Eastern European countries together.
Inspired by Soviet success in harnessing the rivers, Comecon launched the project of "complex utilization of the Danube" in the early 1950s as the new developmental axis of the socialist bloc. Inspired by the fast-growing traffic within the bloc, which already taxed the capacity of the railways, Comecon pushed forward the plan for a waterway network to connect the canals and rivers of the GDR and Poland to the Danube.
However, the plan was never completed, and roads replaced waterways as main alternative to railways by the end of the 1960s.

Previous Story
Next Story

How to cite this page
-
Jiří Janáč, 'Bipolar Europe', Inventing Europe, http://www.inventingeurope.eu/governance/bipolar-europe
Sources
-
Jiří Janáč, European Coasts of Bohemia. Negotiating the Danube-Oder-Elbe Canal in a Troubled Twentieth Century. Amsterdam: Amsterdam University Press, 2012.