Safety first? The story of the automatic coupling
More about this object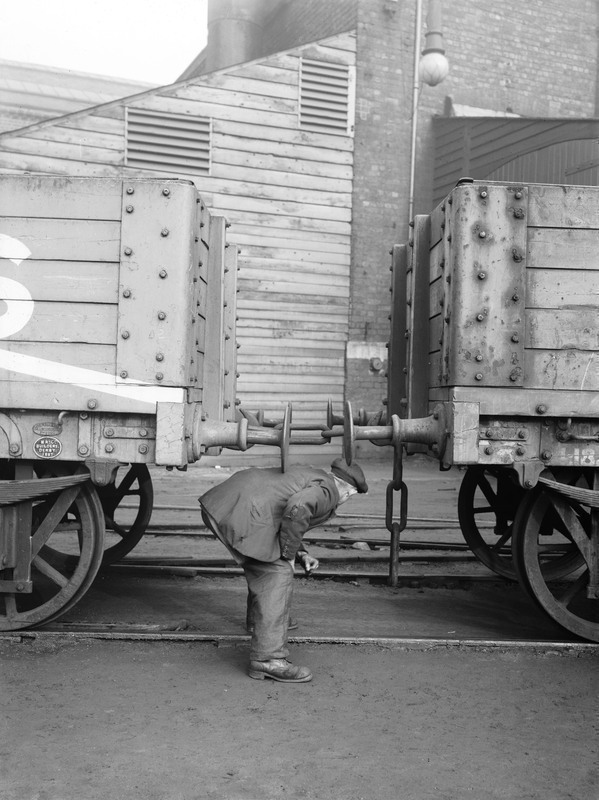 Worker at Doncaster works, 1930
Railway standards are not just about increasing speed and efficiency; they can be a matter of life and death.
Early debates about railway cars focused on how to keep passengers safe from robbery and attack, while other discussions focused on the safety of railway workers, particularly those in charge of linking the trains. Each year, about 225 shunters died and between four thousand five hundred and nine thousand were injured as they maneuvered themselves between the rolling cars to couple wagons manually.
In 1882, in an attempt to increase workers' safety, the Verein began studying options for the automatic coupling of wagons. Prior to the First World War, there were more than two thousand types of automatic couplers to study and test. Apart from the sheer number of systems to test, it was clear that the same automatic couplers needed to be adopted in different European railway networks if they were to continue traveling across borders.
During the interwar years, the International Labor Organization (ILO, founded 1919) and the International Railway Union (Union Internationale de Chemins des Fer UIC, founded 1922) negotiated the matter constantly. Labor unions wanted quick implementation of an automatic system across the continent, whereas the UIC claimed they needed time to study different types of couplers in order to ensure their safety. The ILO also pressed the League of Nations to take action because of the high costs involved. Despite these efforts, no solution was adopted until after the Second World War.

Previous Story
Next Story

How to cite this page
-
Suzanne Lommers, 'Safety first? The story of the automatic coupling', Inventing Europe, http://www.inventingeurope.eu/governance/safety-first-the-story-of-the-automatic-coupling
Sources
-
Anastasiadou, Irene. Constructing Iron Europe: Transnationalism and Railways in the Interbellum. Amsterdam: Amsterdam University Press, 2011.