Energy "Brotherhood" reversed after 1989
More about this object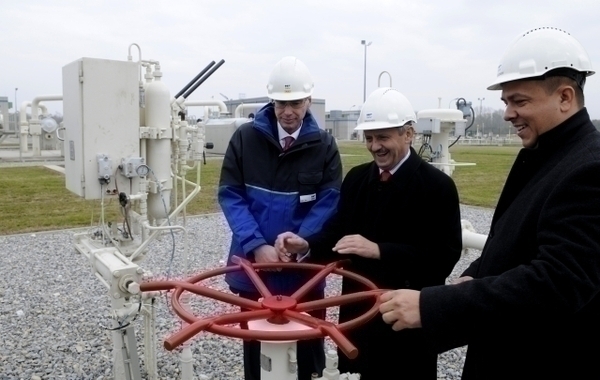 Opening the gas junction inBaumgarten, Austria on Oct. 24, 2010.
After the democratic changes of 1989 and the economic transformations of former Comecon countries and Soviet republics, the role of the "Brotherhood Gas Pipeline" that linked them changed.
Just as Czechoslovakia and Poland had increasingly become transit countries between East and West, the former Soviet republic of Ukraine found itself in a similar situation. What remained was the vulnerability to fluctuations of Russian supplies, which was most visible in the Russian firm Gazprom cutting off supplies to Ukraine in 2006 in a dispute over transit charges. The East European countries had to find out how to deal with the new situation. In 2006, Poland's national oil company PKN Orlen acquired the post-Soviet Mazeikiu refinery in Lithuania.
Shortly after that, Russia announced that a branch of the "Friendship Oil Pipeline" delivering crude Siberian oil to the Mazeikiu refinery would undergo a major renovation and would have to be closed for five years. The refinery faced bankruptcy and its future remains uncertain. In early 2009, Slovakia and the Czech Republic adapted their sections of the pipeline to reverse the flow of gas. In October 2010, similar devices were mounted at the Austrian node in Baumgarten.
From now on, the heirs of Czechoslovakia will feel invulnerable to their supplier's whims and politics, being able to import gas from Austria or Germany.

Previous Story
Next Story

How to cite this page
-
Slawomir Lotysz, 'Energy "Brotherhood" reversed after 1989', Inventing Europe, http://www.inventingeurope.eu/infrastructures/energy-brotherhood-reversed-after-1989
Sources
-
Dahl, Carol A. International Energy Markets: Understanding Pricing, Policies, and Profits. Tulsa: PennWell, 2004.
Ebel, Robert E. Communist Trade in Oil and Gas: An Evaluation of the Future Export Capability of the Soviet Bloc. New York: Praeger, 1970.