Export vs. Relief
More about this object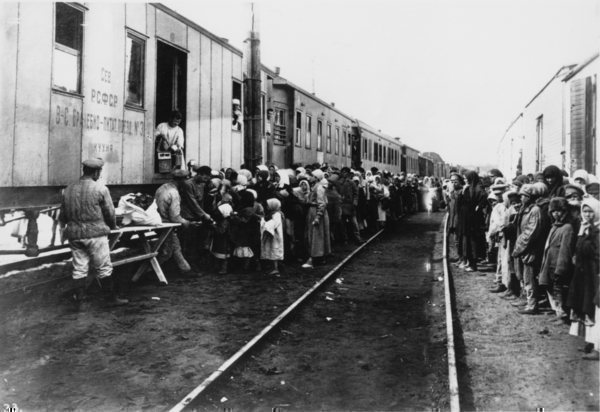 Sometimes the aid food was distributed straight from wagons.
In 1922, despite the continuing famine and to the great surprise of Western societies that were providing grain to starving Russia, the Soviets planned to export food abroad. As the Soviet commerce bureau in Berlin announced in September, thanks to its abundant harvest, Russia was prepared to export 2,750,000 tons of grain.
The same autumn, the Soviet authorities had asked American Relief Administration (ARA) to increase its aid from one million tons to three million tons. The Americans were dissatisfied with this situation, both on ethical and practical grounds. They demanded that Soviets explain why grain was being exported from Odessa and other southern ports, which lay so close to the regions most severely struck by famine. The Soviets stated that the food would be sold in the Mediterranean, and that the proceeds would be used to import other food through the Baltic area, and that the whole operation was planned this way because they were unable to transport domestic grain by railway network from the south to north of Russia.
The ARA's aid continued in spite of all the obstacles. The Soviet regime was continuing a legacy from Imperial Russia. Some visitors had already remarked during the famine of 1891–92 that the "export of grain does not mean selling a surplus, but the parting with food needed to sustain life." The process of extracting grain and other foodstuffs from reluctant peasants was a ruthless requisitioning by both the Soviet and Imperial regimes.
Paradoxically, the expansion of the rail network in the late 1920s did not eliminate the danger of famine. On the contrary, the improved transportation only helped to extract more grain from Ukraine in the following years, which caused another famine that killed millions in 1932–33.

Previous Story
Next Story

How to cite this page
-
Slawomir Lotysz, 'Export vs. Relief', Inventing Europe, http://www.inventingeurope.eu/infrastructures/export-vs-relief
Sources
-
Fisher, Harold H. The Famine in Soviet Russia, 1919-1923: The Operations of the American Relief Administration. Freeport: Books for Libraries Press, 1971.
Edgar, William C. The Russian Famine of 1891 and 1892: Some Particulars of the Relief Sent to the Destitute Peasants by the Millers of America in the Steamship Missouri: A Brief History of the Movement, a Description of the Relief Commissioners' Visit to Russia, and a List of Subscribers to the Fund. Minneapolis: Millers & Manufacturers Insurance Co., 1893. (quote on p. 44).