Poland, brick by brick
More about this object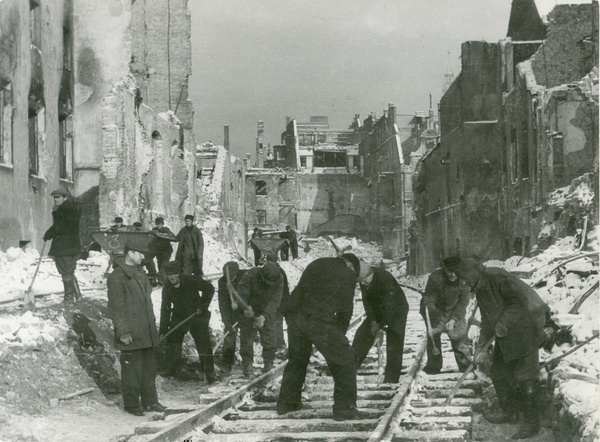 Removing the rubble and reconstructing the Old Market in Wroclaw
After the end of the Second World War, the Potsdam Treaty shifted Poland's western border to the Oder river.
Some towns in this new part of Poland were demolished to extract their bricks, which were transported to central Poland to reconstruct cities like Warsaw and build new ones like Nowa Huta. In the early 1950s, the municipal powers in Wroclaw (the former German city of Breslau) had to provide 150 million bricks per year for the reconstruction of Warsaw; this accounted for 12 percent of the entire country's annual production of bricks.
Special railway tracks were laid to facilitate the transport of bricks from the city center. Neustadt, the eastern side of the city of Küstrin, became part of Poland due to its location on the Oder river. Before the war, the population of Neustadt had reached twelve thousand. After 1945, all of its buildings, despite not having been heavily damaged, were razed to the ground. Only its railway junction and the pillars of useless bridges remained. In similar manner, the eastern half of Forst and other smaller towns were erased.
In 1955, the Polish government issued Decree No. 666 on the removal of the last remnants of the war. As a result, many buildings that could still have been repaired – and even some that had been repaired – were demolished. The result was an enormous loss of housing space and cultural heritage, but it had an even greater impact. The easy access to vast amounts of ready-made bricks meant that the building materials industry in Poland was slow in rebuilding its capacity. This ultimately resulted in a slower pace of reconstruction of the war-torn country.

Previous Story
How to cite this page
-
Slawomir Lotysz, 'Poland, brick by brick', Inventing Europe, http://www.inventingeurope.eu/infrastructures/poland-brick-by-brick
Sources
-
Germany (Territory under Allied Occupation, 1945-1955: U.S. Zone). Military Governor A Year of Potsdam, the German Economy since the Surrender Lithographed by the Adjutant General, OMGUS, [1945].
Thum, Gregor. Uprooted: How Breslau became Wrocław during the Century of Expulsions. Princeton: Princeton University Press, 2011.