Claiming prestige in Egypt
More about this object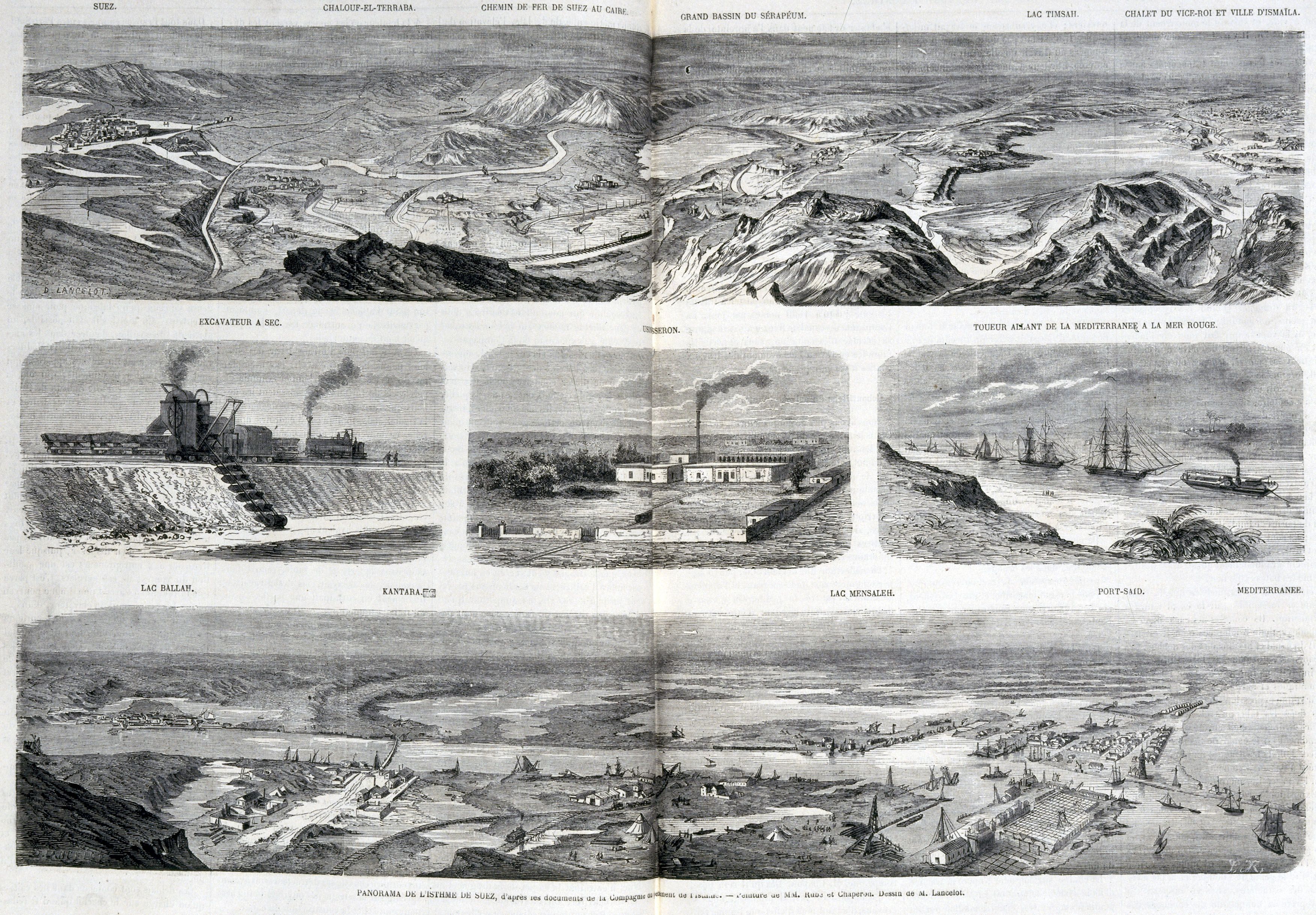 Views of the Suez Canal, Egypt, 1867
Such an important link for global trade as the Suez Canal was used for national prestige.
Ferdinand de Lesseps, a retired French consul, received Egypt's permission to construct the Suez Canal. He assembled an international committee of experts from France, Great Britain, the Netherlands, Germany, Italy, Austria and Spain, which endorsed the project in 1856.
Des Lesseps interested mainly French private investors. Other countries refused collaboration out of fear for French hegemony over the shortest route to the East Indies. The Egyptian government safeguarded the project. In 1858, the 'Universal Company of the Suez Maritime Canal' was established. Several countries joined over the years, including Great Britain in 1865.
The canal would be open to ships of all nations, and proved irresistible for politics. During the 1869 opening ceremony, the French government iconized the canal as a French endeavor. L'Aigle, a ship bearing the French colors, led the fleet through the canal, with Empress Eugenie and 'their' Ferdinand des Lesseps on board. 
The Brits had different plans. On the night before the ceremony, Captain George Nares of the British HMS Newport maneuvered his ship in front of L'Aigle. When dawn broke, the French were horrified to see a British vessel entering the canal first. The British Admiralty reprimanded Nares, but offered an unofficial vote of thanks for promoting British interests.
Governments tried to boost their national image through international masterpieces like the Suez Canal, creating myths around engineers, their endeavors, and ceremonial openings but also by taking part in the symbolic opening ceremonies. 

Previous Story
Next Story

How to cite this page
-
Anne-Mirthe Dieudonné, 'Claiming prestige in Egypt', Inventing Europe, http://www.inventingeurope.eu/knowledge/claiming-prestige-in-egypt
Sources
-
Des Lesseps, Ferdinand, Percement de l'Isthme de Suez: rapport et projet de la Commission Internationale
 von Ferdinand-Marie de Lesseps. Paris, 1856. 
Hansen, Bent and Khairy Tourk, The Profitability of the Suez Canal as a Private Enterprise, 1859-1956, The Journal of Economic History, Vol. 38, No. 4 (Dec., 1978), pp. 938-958.  
Movenu Internacional, Historical General Assembly. The 1956 Suez Canal Crisis, 2012.
Trischler, Helmuth and Martin Kohlrausch, Building Europe on Expertise. Innovators, Organizers, Networkers, Basingstoke: Palgrave, 2014.
Wilson, Arnold T., The Suez Canal. Its Past, Present and Future, Oxford: Oxford University Press, 1939.