Opening a new chapter
More about this object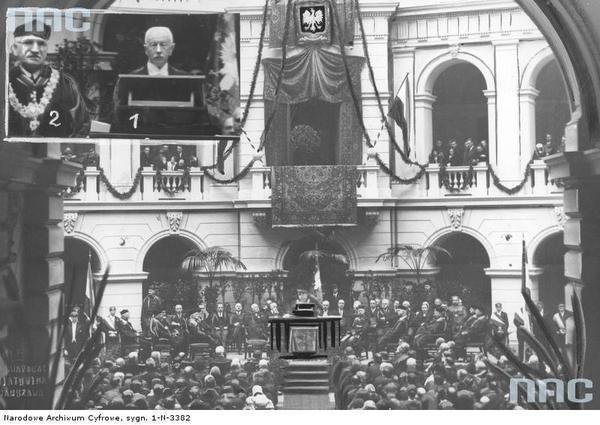 Baron Bohdan Hutten-Czapski is given a 'honoris causa' of Warsaw Polytechnic.
In 1915, the official opening of Warsaw University of Technology (currently the top-ranked technical school in Poland) was a somewhat strange event.
The German occupiers of Poland opened the university, where Polish was the language of instruction, in a city that they had only just been recaptured from Russian hands. The first rector of the university was a Polish professor of mechanics, Zygmunt Straszewicz, while Count Bogdan Hutten-Czapski, the Polish-German aristocrat who enjoyed high credibility in both countries, served as official representative of the German administration.
The headquarters of the university was housed in the former Tsar Nicolas II Polytechnic Institute, which had been erected in 1896 with funds that "Polish society collected out of its own initiative" after an extensive trip to foreign universities undertaken by a group of local architects seeking for inspiration. During the survey, these architects visited Polytechnic institutions in Vienna, Graz, Milan, Zurich, Straßburg, Darmstadt, Paris, London, Berlin-Charlottenburg, and Leipzig.
While the building was a synthesis of what they had seen in top centers of technical education in Western Europe, the administrative structure, curricula, and even the students' uniforms were of Eastern origin.
Next Story

How to cite this page
-
Slawomir Lotysz, 'Opening a new chapter', Inventing Europe, http://www.inventingeurope.eu/knowledge/opening-a-new-chapter
Sources
-
Dunin-Wąsowicz, Krzysztof. Warszawa w pamiętnikach pierwszej wojny światowej. Warszawa: PIW, 1971.
Kolbiński, Kazimierz Politechnika Warszawska, 1915-1965. Warszawa: PWN, 1965.