Forcefully evacuated or voluntarily abducted?
More about this object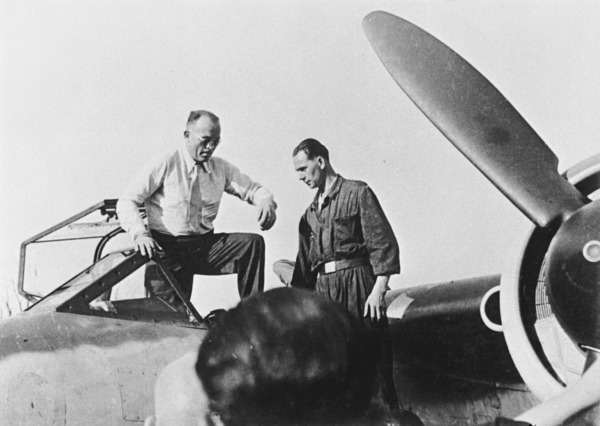 Engineer and airplane builder Kurt Tank
While some German specialists were sometimes 'forcefully evacuated' to the United States, Great Britain, or the Soviet Union, a number also emigrated voluntarily to South America, particularly to Argentina.
The country offered shelter for thousands of German citizens, including engineers and scientists. One of them was Kurt Tank, the famous aeronautical engineer who had designed several machines. He arrived in Argentina in 1948 and immediately assumed a position at the State Aeronautical and Mechanical Industries (Industrias Aeronáuticas y Mecánicas del Estado, or IAME) in Córdoba. He was hired to build the first Argentine jet fighter.
The machine, based on his previous design, the Ta-183, was named Pulqui II and was presented to both general public and General Juán Perón in Buenos Aires on February 8, 1951. The plane turned out to be an expensive dud – it never worked. Soon after, Tank moved on from Argentina and was contracted by HAL (Hindustan Aircraft Ltd.). Leading a team of German engineers, he developed a supersonic fighter, the HF-24, in the mid-1960s. The first prototype was powered by two Rolls-Royce Orpheus 703 jet engines. It is believed that one hundred machines were built and used successfully in the war against Pakistan.
The career of Kurt Tank differed from those of Willy Messerschmitt and Ernst Heinkel, two brilliant airplane engineers who remained in Germany. Since the country's aircraft industry had been suppressed by Allies, they both ended up designing ingenious, but modest scooters and three-wheel automobiles.

Previous Story
Next Story

How to cite this page
-
Slawomir Lotysz, 'Forcefully evacuated or voluntarily abducted?', Inventing Europe, http://www.inventingeurope.eu/knowledge/forcefully-evacuated-or-voluntarily-abducted
Sources
-
Krasnov, Vladislav. Soviet Defectors: The KGB Wanted List. Stanford: Hoover Institution Press, 1985.
"Professor Kurt Tank." The Times, June 14, 1983: 10.
Raman, A. "Foreign Designers Needed to Get Planes Airborne." The Times, November 30, 1970: XV.