Isotype: a universal language for social information
More about this object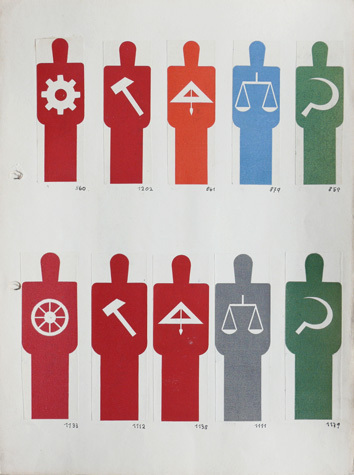 Isotype 'Picture dictionary'
Together with artist Gerd Arntz (1900–1988), Otto Neurath began to develop the icons of his social statistics into something new. Besides visualizing statistics, Neurath and Arntz reasoned that the icons in the graphs could also serve as easily intelligible signs in their own right.
As they developed the symbols, Arntz and Neurath increasingly came to promote these figures as a universal, if limited, language that would enable communication across borders. They coined the name Isotype (International System Of Typographic Picture Education) in 1935. Before they had made it far with this work, they were forced to cross borders themselves. Together with Arntz, Neurath and the designer Marie Reidemeister (1898–1986) (who later became his wife) fled Austria to the Netherlands during the Austrian civil war of 1934.
From there, they continued working with Arntz until the German invasion in 1940, when Neurath and Reidemeister fled to England. After the war, and Otto Neurath's death in 1945, both Arntz and Marie Neurath continued working on Isotype in the Netherlands and the UK, respectively, producing and promoting the figures.
Neurath's collection is currently at the University of Reading, and Arntz's is at the Gemeentemuseum in The Hague.

Previous Story
Next Story

How to cite this page
-
Alexander Badenoch, 'Isotype: a universal language for social information', Inventing Europe, http://www.inventingeurope.eu/knowledge/isotype-a-universal-language-for-social-information
Sources
-
Van Acker, Wouter. Internationalist Utopias of Visual Education. The Graphic and Scenographic Transformation of the Universal Encyclopaedia in the Work of Paul Otlet, Patrick Geddes, and Otto Neurath. In Perspectives on Science, Vol.19, nr.1 (2011), p.32-80
Hartmann, Frank "Visualizing Social Facts: Otto Neurath's ISOTYPE Project." In European Modernism and the Information Society. Informing the Present, Understanding the Past, edited by W. Boyd Rayward. London: Ashgate Publishing, 2008 http://www.medienphilosophie.net/texte/Neurath_engl.pdf