The unfinished Symphonie
More about this object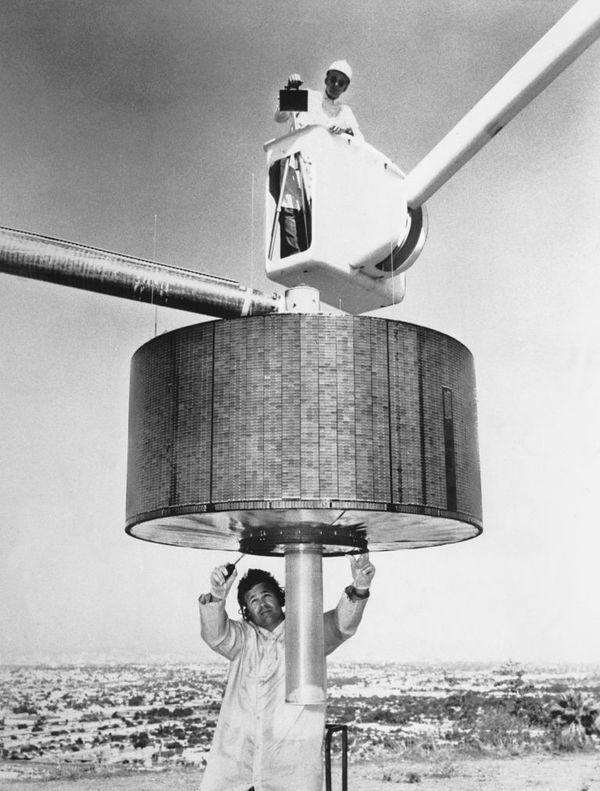 Intelsat, the 'big brother' of Early Bird
The failure of ELDO, the European program to develop its own launcher, did not stop European development toward space.
Besides launchers, European firms had also been busy developing satellite technologies, particularly for communications. Following the 1963 Elysée treaty between France and Germany, a Franco-German consortium had been developing Symphonie, a system of ground- and space-based communications. The ground segment comprised a series of earth stations that allowed a large spectrum of utilization, such as the transmission of television and radio programs, telephone calls, telexes, and data.
The space segment consisted of two three-axis-stabilized geostationary satellites, which enabled simultaneous communication between several earth stations. In many ways, this system ushered in a number of new innovations in communications satellite technology. Symphonie had initially been designed as a competitor for INTELSAT, the US-led international organization that developed the series of geostationary communications satellites in the 1960s (the moon landings in 1969 were broadcast live via INTELSAT). The two Symphonie satellites were launched in December 1974 and August 1975 from Cape Canaveral, Florida.
Apart from not fulfilling the dream of using a European rocket, this also sank the dream of a competitor for INTELSAT: a condition of the contract with NASA was that Symphonie could only be used for experimental and humanitarian purposes, not commercial ones.

Previous Story
How to cite this page
-
Alexander Badenoch, 'The unfinished Symphonie', Inventing Europe, http://www.inventingeurope.eu/knowledge/the-unfinished-symphonie
Sources
-
Trischler, Helmuth and Kohlrausch,Martin. The Politics of Expertise in Europe: Creating, Organizing, Sharing Knowledge. Basingstoke: Palgrave, forthcoming.