A museum without borders
More about this object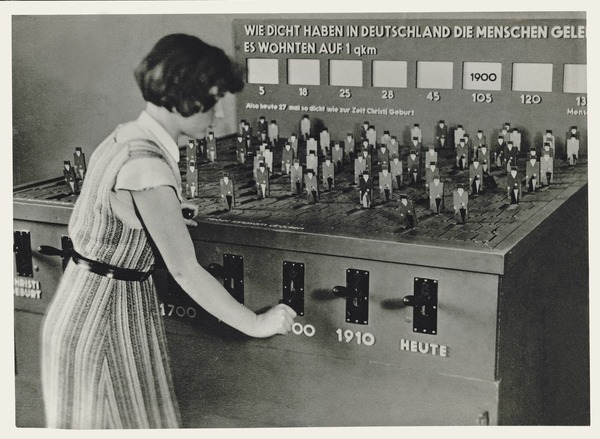 Table: how densely populated have the Germans lived?
The belief in universal scientific knowledge and neutral facts cannot be separated from questions about who has access to that knowledge and what should be done with it.
The Austrian economist and socialist Otto Neurath (1882–1945) combined his quest to reform the access to wealth in society with the aim of making knowledge about society more readily available. As a trained economist, Neurath had worked in planning for the German war department until the end of the First World War. He became a Social Democrat after the war, and was charged with creating a socialized economy in the new Bavarian Republic. For this, he was imprisoned when the Republic collapsed. He returned to his native Vienna, which became known as "Red" Vienna, due to its ruling Social Democrat majority.
There Neurath established the Museum of Economy and Society (Gesellschafts – und Wirtschaftsmuseum), which was designed to make social facts accessible to all. Beginning with a permanent exhibition on the city's housing problems, Neurath and the museum began to develop what became known as the "Vienna method" of social statistics. Using small, uniform icons and minimal text, the Vienna method displayed social facts in ways that easily allowed viewers to understand and compare populations, industrial production, or wealth distribution. They used these methods further at exhibitions in Düsseldorf and Hygeine Museum in Dresden. The display here, from Düsseldorf's Reichsmuseum für Geschäfts- und Wirtschaftskunde (Imperial Museum of Business and Economy) in 1926, drew clearly on the Vienna method.
In 1929, Neurath met Paul Otlet when he visited the Mundaneum, who, like Neurath, was working on an atlas of social information, and together they began collaboration. In 1930, Neurath's book Gesellschaft und Wirtschaft was published, featuring one hundred basic representations of social statistics.
The entire atlas is visible on Prof Frank Hartmann's pages about Otto Neurath.

Previous Story
Next Story

How to cite this page
-
Alexander Badenoch, 'A museum without borders', Inventing Europe, http://www.inventingeurope.eu/knowledge/a-museum-without-borders
Sources
-
Nikolow, Sybilla "Gesellschaft und Wirtschaft. An Encyclopedia in Otto Neurath's Pictorial Statistics from 1930," in: W. Boyd Rayward (Ed.): European Modernism and the Information Society. Informing the Present, Understanding the Past. London: Ashgate Publishing, 2008. pp 257-278.