Cold War hot water: the MIR submarine
More about this object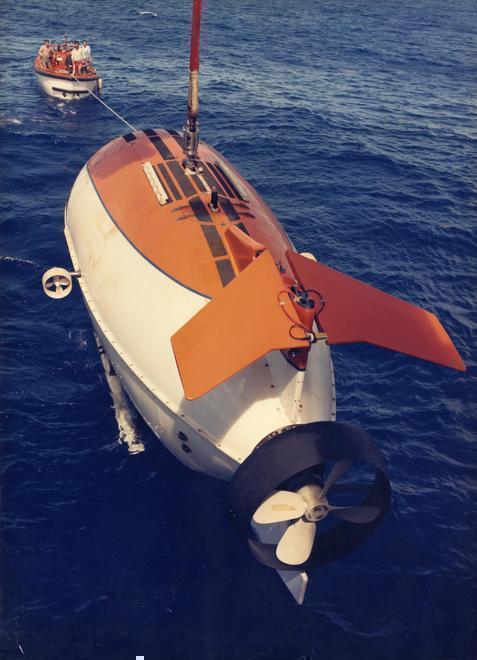 MIR submersible preparing to dive off the coast of west Africa,1987
Exploration and generation of data about the ocean floor and currents could also be caught up in the Cold War, as was the case with the MIR Project, initiated by the USSR's Academy of Sciences.
In 1986, two submersible vehicles were ordered from the Finnish company Rauma-Repola Oceanics and delivered to the Soviet Union in 1987. Planning, construction, and production of the vehicles required cutting-edge technological solutions. Original bids from Canada, France, and Sweden to construct the submarines had been retracted, most likely due to political pressure. Rauma-Repola had received permission to deliver the MIR because the USA believed it would turn out to be a failure.
When US officials noticed that the submersible was a success and could dive to a depth of six thousand meters, it caused an uproar. Because of the US restrictions on technology exports, most of the technology used had to be developed in Finland. The level of technology flowing into the Soviet Union raised concerns in the USA and Rauma-Repola was privately threatened with economic sanctions. For example, one of the Pentagon's concerns was the possibility that the Soviet Union would manufacture a pioneering submarine fleet that could clear the ocean floor of US deep-sea listening equipment.
With the possibility of losing its lucrative offshore oil platforms market, Rauma-Repola yielded and development ceased in Finland.

Previous Story
How to cite this page
-
Slawomir Lotysz, 'Cold War hot water: the MIR submarine', Inventing Europe, http://www.inventingeurope.eu/knowledge/cold-war-hot-water-the-mir-submarine