Floppy contradictions
More about this object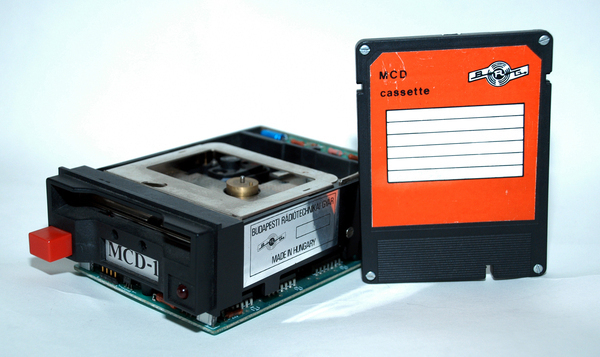 BRG MCD-1, Hungarian floppy disk drive.
In the 1980s, analysts estimated that the computer industry behind the Iron Curtain was behind the West by about 15 years. The Soviet Union and Eastern European countries sought to obtain technology from the West, even if it might be slightly outdated. They used a range of methods of acquiring the technology from purchasing a license to industrial espionage.
At the same time, however, they did have their own innovations in the field. One such example was the floppy disk drive designed in 1974 by Marcell Janosi from Budapest Radio Technology Factory (Budapesti Rádiótechnikai Gyare – BGR). It was a 3-inch single-sided microfloppy disk drive with a formatted capacity of 150 kilobytes, known as the BRG MCD-1.
This device had real sale potential in the West. Several gurus of the computer industry, including Jack Tramiel of Commodore, negotiated with Hungarians for use of the device. Although the floppy disk drive invented at BRG might have been a well-functioning addition to computers made in the West, the bureaucratically managed socialist enterprise could not enter into cooperation with an international company to increase production volume.
Hungary retained its exclusive position inside COMECON as a specialized producer of floppy disks, but never exploited fully the success of the BRG MCD-1.

Previous Story
Next Story

How to cite this page
-
Slawomir Lotysz, 'Floppy contradictions', Inventing Europe, http://www.inventingeurope.eu/knowledge/floppy-contradictions
Sources
-
Raffai, Maria. "Computing behind the Iron Curtain and Beyond Hungarian National Perspective." In IFIP International Federation for Information Processing. Volume 215, History of Computing and Education 2 (HCE 2), edited by John Impagliazzo. Boston: Springer, 2006: 153-165.