GDR IBM
More about this object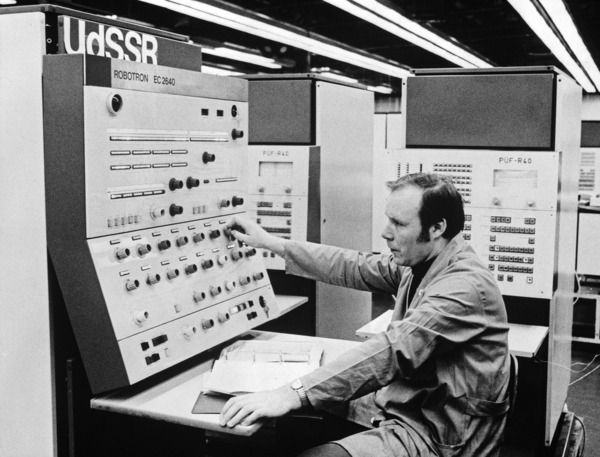 Computing station Robotron EC 2640
From the early 1960s onwards, GDR authorities were aware that computerization would be an important factor in the modernization of the country's economy.
Government policy regarding where to get these computers changed through the years. In the period after the Second World War, it invested in its own development. The Dresden professor N. J. Lehmann (1921-1998) developed a series of pioneering computers, known collectively as the 'Dresden computers'), the D1 (1956), D2 (1959), and a small desktop model the D4a (1963). The latter, while foreseeing the rise personal computer, was dismissed at the time. Commercial computers were alwso developed: in 1954 OPREMA or Optical Computation Machine in 1956 – ZRA1 or Zeiss Rechenautomat Number 1.
In the early 1960s, the GDR turned its attention to Western technology. At first, the computer market in the GDR was dominated by machines made by Control Data Corporation (CDC), while other producers, including IBM, were barely seen. As the United States allowed more advanced computers to be exported to Eastern Europe, IBM refused to negotiate with East Germans, while CDC sales managers offered models that were not banned, but still effective and less expensive. After the late 1960s, the Soviet Union's desire to foster the adoption of American technologies and standards throughout the Eastern Bloc meant that the situation reversed. IBM became the new standard.
The result was Robotron 300, the first machine based on IBM architecture, specifically the 360/40 model, which was developed in VEB-Werke RAFENA, Radeburg, in 1967. A few years later, Robotron produced the central processing unit, the EC2640, for the Soviet-Bloc's 'Unified System' (Единая Cистема/Edinaya sistema or EC) computer the EC1040, which was also based on an IBM design.

Previous Story
Next Story

How to cite this page
-
Slawomir Lotysz, 'GDR IBM', Inventing Europe, http://www.inventingeurope.eu/knowledge/gdr-ibm
Sources
-
Donig, Simon. "Appropriating American Technology in the 1960s: Cold War Politics and the GDR Computer Industry." IEEE Annals of the History of Computing (July-August 2010): 32-45.