Practicing (is) the Russian way
More about this object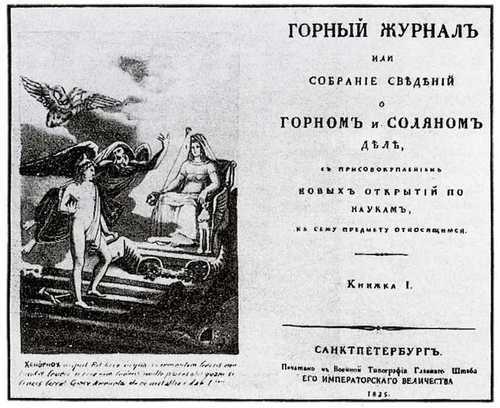 Mining Journal (Gornyi Zhurnal), one of the oldest journals published in Russia
In general, technical education in Russia did not differ greatly from that of French École Polytechnique and École de Mines, and it had a similarly long tradition.
The first Russian Mining School was founded ten years before its French equivalent. However, while the state played the decisive role in creating the École de Mines, the idea of an institution that trained mining specialists in Russia came from industry. In 1771, the Bashkir miner Ismail Tasimov petitioned the Mining Office to establish a mining school, the running costs of which would be paid by industrialists, who would have access to specialists who understood the growing complexity if mining technology.
The school was founded two years later and accorded equal status with the universities in 1806. The full degree course took eight years and, in addition to a standard grounding in math, physics, and chemistry, consisted largely of practical exercises in mining and ironworks. Like the French schools founded by the state, graduates from the Mining School and the St. Petersburg Institute to which it was attached in 1834 were expected to enter state service as civil servants or military officers.
Although it excelled in practical training, the Mining School was also a home of outstanding scholars, and its Mining Journal (Gornyi Zhurnal), published intermittently since 1825, is one of the oldest scholarly journals in the world today.

Previous Story
Next Story

How to cite this page
-
Slawomir Lotysz, 'Practicing (is) the Russian way', Inventing Europe, http://www.inventingeurope.eu/knowledge/practicing-is-the-russian-way
Sources
-
Iron-Making Societies: Early Industrial Development in Sweden and Russia, 1600-1900, edited by Maria Ågren. Providence: Berghahn Books, 1998.