The noble history of the index card: Universal Decimal Classification
More about this object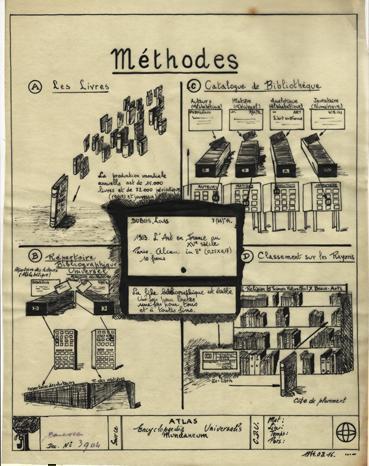 Methods
Paul Otlet had begun working on bibliography as a central problem while in his mid-20s, as he attempted to compile bibliographies of social science with Henri LaFontaine. He began thinking about ways to extract and link the knowledge in books into new forms. He believed that "the external makeup of a book, its format, the personality of its author were unimportant ... [if] its substance, its sources and its conclusions" could be distilled.
In 1895, the two men set up the International Institute of Bibliography in Brussels and began compiling what became known as Universal Bibliographic Repertory (RBU), a classification of known books. Building on the numerical classification system developed by American Melvil Dewey (Dewey's permission was granted under the condition that they did not translate it into English), they developed Universal Decimal Classification (UDC). UDC not only created numerical values for subject areas, but also used symbols to show how fields could be related.
At the center of these new compilations was a simple technology: the index card. Subjects, and even individual facts or illustrations from books, could be copied or even cut out and pasted onto cards, and filed with the necessary reference numbers. In this way, facts and images could be quickly assembled around any subject. Individuals would be able to write to the RBU requesting information on a specific topic,and a librarian would be able to quickly assemble the relevant facts. By 1934, Otlet was reported to have 15,646,346 index cards in the RBU.

Previous Story
Next Story

How to cite this page
-
Alexander Badenoch, 'The noble history of the index card: Universal Decimal Classification', Inventing Europe, http://www.inventingeurope.eu/knowledge/the-noble-history-of-the-index-card-universal-decimal-classification
Sources
-
Van Acker, Wouter. "Internationalist Utopias of Visual Education. The Graphic and Scenographic Transformation of the Universal Encyclopaedia in the Work of Paul Otlet", Patrick Geddes, and Otto Neurath. In Perspectives on Science, Vol.19, nr.1 (2011), p.32-80
Rayward, W. Boyd, The Universe of Information: the Work of Paul Otlet for Documentation and international Organization. FID Publication 520; Moscow: Published for the International Federation for Documentation by the All-Union Institute for Scientific and Technical Information (Viniti), 1975 https://www.ideals.illinois.edu/handle/2142/651